You don't get more powerful, as an on-screen character, than playing God. And yet, God is just one of the many powerful people Morgan Freeman has portrayed over the course of his career — and we don't see these roles slowing down any time soon.
Morgan Freeman will receive a promotion later this year when he plays the president of the United States in the action-thriller ANGEL HAS FALLEN. Freeman has climbed the ranks with each new chapter in this franchise, and he has been protected by Gerard Butler every step of the way.
Seeing Freeman as the U.S. president got us thinking about all of the other times Hollywood has looked to the OscarÒ-winning actor for leadership. These are the four that jump to mind. Which one is your favorite?
Deep Impact
In 1998, audiences were faced with two asteroid disaster movies at the multiplexes — the other being Michael Bay's bombastic ARMAGEDDON — but only one featured Morgan Freeman as a president wrestling with the repercussions of our planet being struck by a massive space rock.
The Sum of All Fears
There's a formula in play here. When the world is in danger, we tend to want Morgan Freeman in a position of power, to help guide us through the chaos. Phil Alden Robinson's THE SUM OF ALL FEARS didn't cast Freeman as the president, though he did play the CIA director William Cabot, who aided Ben Affleck's Jack Ryan as they raced to retrieve missing nuclear bombs tied to the Soviets.
Bruce Almighty / Evan Almighty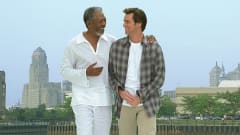 When making a list of the most powerful characters in Hollywood history, you'd be hard pressed to put anyone much higher than God. Morgan Freeman was ideal casting to play the supreme being alongside Jim Carrey (to start) and Steve Carell (in the sequel). His natural gravitas and all-around trustworthy tone fit God like a glove — and probably helped him earn more leadership roles in subsequent films.
Invictus
Some actors are born to play historical figures. Think Daniel Day-Lewis expertly stepping into the role of Abraham Lincoln in Steven Spielberg's somber LINCOLN. The same goes for Morgan Freeman when he played Nelson Mandela in Clint Eastwood's sports drama INVICTUS. Though not a straight Mandela biopic, this movie instead focused on how the success of the national rugby team in a World Cup tournament helped heal a nation in 1995.