Musician biopics aren't new, though thanks to the success of films like BOHEMIAN RHAPSODY, LOVE & MERCY, and STRAIGHT OUTTA COMPTON, Hollywood studios are thinking about beloved artists that audiences may want to learn more about through potential films. Elton John fans don't have to wait very long. The iconic singer-songwriter will be portrayed by Taron Egerton in the upcoming ROCKETMAN, in theatres on May 31.
The thing about musician biopics is that you could single out any major decade and find numerous bands and artists that would be worthy of the big-screen biography treatment. Let's focus on the 1970s in this article and discuss a handful of acts that we'd love to see get the BOHEMIAN RHAPSODY approach to a crowd-pleasing movie.
Tom Petty
We lost the Heartbreaker in 2017, but Tom Petty left behind a lifetime of classic songs and stories that could fuel an interesting biopic. Petty has something few other artists can claim: a proud heritage in the state of Florida, which inspired his bluegrass-infused collection of radio hits. Petty also had a complicated relationship with his father, which could bring real drama to the story.
David Bowie
The beautiful thing about David Bowie as the subject of a biopic is that there are different phases of the artist's career that could be covered. Though he kicked off his career in the 1960s, it was during the '70s that Bowie was at his most creative, launching the Ziggy Stardust character (after being influenced by Iggy Pop and Lou Reed). But as the decade wore on, Bowie would break away from the role he created and inspire others with his own songs like "Fame" and "Young Americans." It's also when he succumbed to his cocaine addiction and was forced into treatment.
Diana Ross
The women of the 1970s could provide numerous compelling biopics, but we'd love to see Diana Ross' story played out on the big screen. In telling her rise through the era of a tumultuous Detroit, a filmmaker could also comment on Motown and showcase the music of The Supremes. A 1970s-set Ross story could start with her leaving The Supremes and finding her way as a solo artist. The soundtrack would be epic.
Bruce Springsteen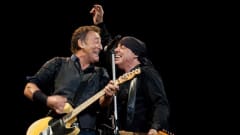 There's a movie coming out in 2019 called BLINDED BY THE LIGHT, and it uses the music of Bruce Springsteen to tell the story of a die-hard fan. But New Jersey's blue-collar hero also deserves to have his story told, and we'd like to see The Boss take a crack at the screenplay. Anyone who has ever seen Bruce in concert — or recently, on Broadway — knows that he's a gifted storyteller, and the story of his life would make an outstanding movie. Filmmakers could even do a Springsteen trilogy and focus on the '70s, '80s and today.
Fleetwood Mac
Band drama fuels tense biopics, and very few bands have had as much internal strife as Fleetwood Mac. And at the same time, they created such beautiful music from the squabbles. Our suggestion for this biopic would be to laser focus on the time between the creation of "Fleetwood Mac" (1975) and "Rumours" (1977) and explore the combustible chemistry that made the band so pivotal … and so self-destructive.
Led Zeppelin
If you are going to dabble in the bands of the 1970s, there's no avoiding these last two rock acts. The definitive giants of the rock-and-roll decade need their own films. And while the Rolling Stones have plenty of concert films, Led Zeppelin has been largely absent from the big screen. A worthy biopic of rock's gnarliest band would pack theatres, just to be able to hear those classic songs over a movie theatre sound system.
The Rolling Stones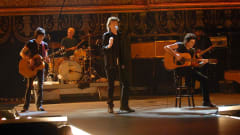 Like Bowie, the Stones are a band that could spawn numerous movies, depending on which decade the filmmaker wanted to focus. Mick Jagger and Keith Richards in the 1970s were a nasty pair, testing the limits of rock star powers and creating some of the greatest albums of all time. Casting on this biopic would be key — who could step into the shoes of those two giants? Rami Malek did such a good job with Freddie Mercury that almost anything is possible.