During the most recent Oscars season, the Queen musical biopic BOHEMIAN RHAPSODY earned nods in several categories and picked up a coveted Best Actor trophy for star Rami Malek. Lightning might strike the same place twice this year, as Taron Egerton looks to give an awards-worthy performance as Sir Elton John in the musical biopic ROCKETMAN.
Paramount Pictures brought a lot of footage from its upcoming slate to Las Vegas for CinemaCon 2019, and a highlight was the full reel that they showed off for ROCKETMAN. Directed by Dexter Fletcher, ROCKETMAN will tell the rise (and sometimes fall) of acclaimed singer-songwriter Elton John. The pianist will be portrayed on screen by Taron Egerton (KINGSMAN, EDDIE THE EAGLE), who disappears into the role thanks to flashy outfits and gaudy sunglasses.
But Egerton's transformation is actually more than that. Based on the footage we were able to screen, Egerton does all of his own singing for ROCKETMAN, translating Elton John's iconic catalog into his own interpretations. And they are beautiful. We were able to hear him performing such tracks as "Your Song," "Saturday Night's Alright for Fighting" and the movie's title track.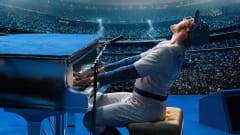 ROCKETMAN looks like a celebration of the life and music of Sir Elton John. And because of John's involvement in the film — even serving as the story's narrator — Dexter Fletcher said they were allowed to be a little creative with their approach and a little more liberal with the truth. The music will inspire full-blown musical numbers, where Egerton will be joined by other people in the scenes who break into song. In one outstanding sequence, we saw Egerton dancing around a carnival as the rest of the patrons joined him for a rousing rendition of "Saturday Night's Alright for Fighting," and it was powerful and energetic.
The movie seems to span the bulk of John's life, starting with his early days at a London conservatory and moving into his legendary collaborations with songwriter Bernie Taupin (played by Jamie Bell). ROCKETMAN doesn't look to soften the edges of John's story, even though he's a producer on the movie. In the footage that Paramount showed off at CinemaCon, we saw John's near-death experience in a Los Angeles swimming pool, followed by his triumphant performance at Dodger Stadium — a sequence that appears to be a highlight of ROCKETMAN.
It's too early to tell if ROCKETMAN actually will be a legitimate Oscar® contender. But at the very least, the sizzle reel — and the passion of Dexter Fletcher and Taron Egerton — got us super excited for the prospect of this magical musical biopic.
Find out for yourself when ROCKETMAN opens in theatres on May 31.