Put on your sparkly star glasses and get ready to leave the bounds of Earth. Your captain? Elton John. Rock and roll is all about fantasy, and no one knows that better than John. Like so many other rock stars, John didn't just become a performer — he created an entire persona from which his musical ideas could flow.
ROCKETMAN, opening on May 31, features Taron Egerton (KINGSMAN) as Elton John. Many films about musicians take more than a small amount of creative license to turn a biography into a big-screen story. (See BOHEMIAN RHAPSODY for the most recent example.) This one goes all out, however, with sequences of full-on fantasy that take us right inside the mind of one of the greatest performers in rock and roll history.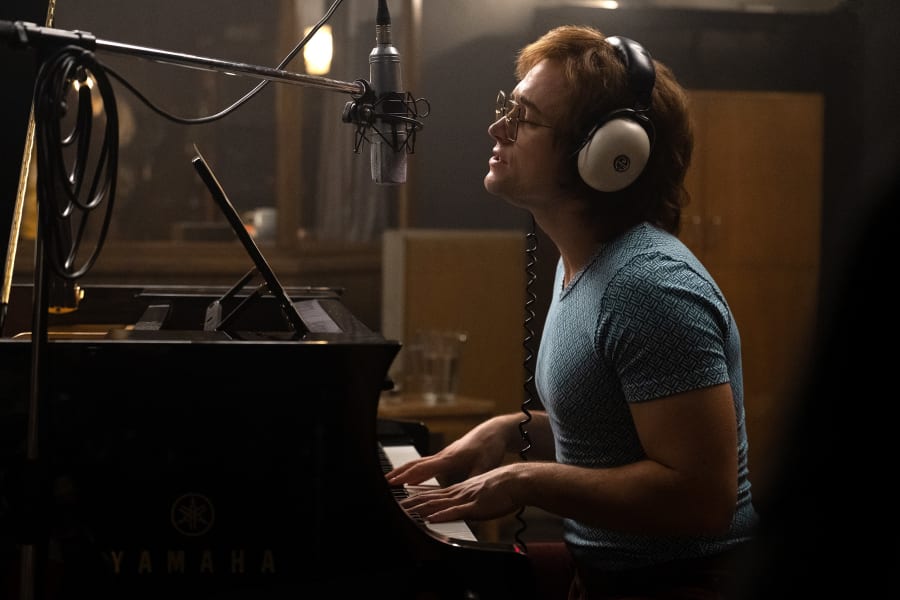 ROCKETMAN is, on one level, a soup-to-nuts account of Elton John's early days, his rise to fame and the problems that turned superstardom into a complicated life.
Paramount Pictures showed off footage from the Dexter Fletcher-directed film at CinemaCon, and that sizzle reel featured a scene in which a young Elton John — then known by his birth name, Reginald Dwight — shows off his prodigious piano talents to a stuffy music academy instructor.
But the footage also showed the musician, just as he is becoming a young star, singing along to "Saturday Night's Alright for Fighting" while strolling through a carnival in a sequence that could come right out of a more traditional Hollywood musical. (Some of that footage can be seen here.)
The ideas at play here are anything but traditional, however — just like Elton John's music, when it originally arrived. Introducing the footage at CinemaCon, Paramount President Jim Gianopulos said, "We've never seen the incredible story and struggles behind the man — until now. He is a man who through tenacity, talent and sheer guts was able to break through the mundane trappings of Earth and reach the stratosphere."
The CinemaCon footage also showed part of a sequence in which Elton John plays his first-ever show in the United States, at the Troubadour in West Hollywood. The audience isn't certain what to make of him at first, but everyone is quickly won over as John breaks into "Crocodile Rock." Part of this sequence is in the first teaser trailer, too, in which the audience — and John himself — levitate during a song. (That trailer can be seen above.)
Those moments of magical realism are not exactly "real," but they are important to the film's efforts to capture the transcendent feeling of creating and performing music and even seeing it in a live setting.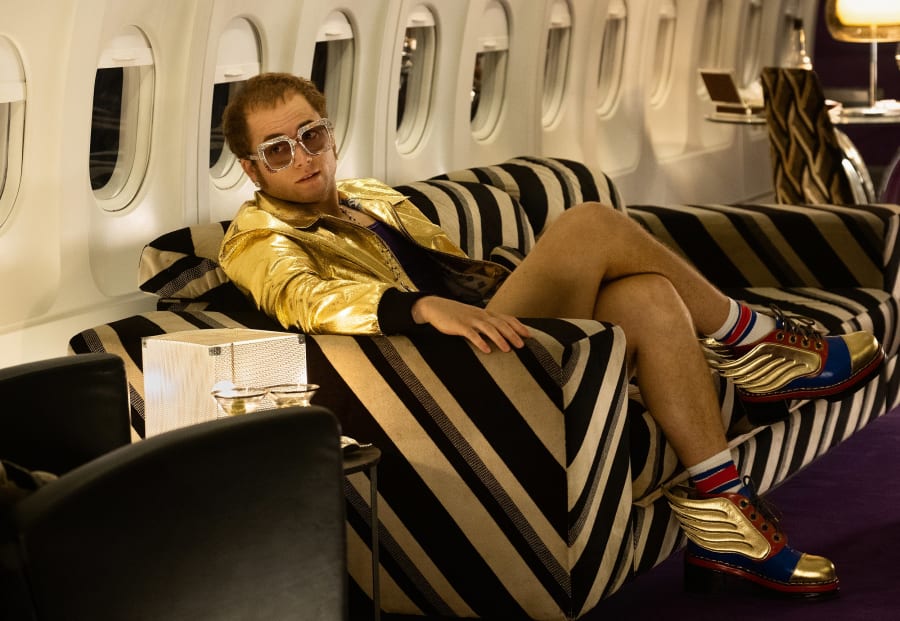 "We wanted it to be a raw, human story," Egerton said at CinemaCon, "but we also wanted it to be fun." The actor, who did many of the film's vocal performances himself, continued by saying the hope is for "audiences to feel like they are getting a glimpse of the unseen, behind-closed-doors life of a man who had a notoriously turbulent time," even as Egerton himself is somewhat "irreverent with the role."
It's worth remembering at this point that Egerton and Elton John also worked together in KINGSMAN: THE GOLDEN CIRCLE, which might have helped the musician get comfortable with the idea of Egerton performing his life story. At CinemaCon, director Dexter Fletcher (who also helped complete BOHEMIAN RHAPSODY) said, "We wanted [ROCKETMAN] to be an honest and truthful portrayal. It's extremely important to him and to us."
With a penchant for flamboyant costumes and extravagant musical ideas, fantasy is an intrinsic part of Elton John's musical identity. "Reality" can only go so far to capture his story — some of the most important parts of his biography are blasts of emotional fantasy. ROCKETMAN dives right in, and that, paradoxically, is what makes it real.
ROCKETMAN hits theatres May 31.