There's a reason "dress for the job you want" is a timeless adage. Can you imagine Elton John in a hoodie and jeans? Or Pennywise in a tutu? Clothes are an expression of who we are and how we want to be perceived by others. For the stealthy detectives of SHAFT and secret agents of MEN IN BLACK: INTERNATIONAL, looking the part is … well, part of the package.
The Leather Jacket Says It All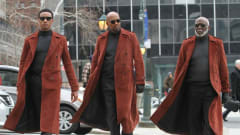 The new SHAFT brings together three generations of the coolest private eyes in New York City. JJ, aka John Shaft Jr. (Jessie T. Usher), may be a cyber security expert with a degree from MIT, but to uncover the truth behind his best friend's untimely death, he needs an education only his dad (Samuel L. Jackson) can provide.
By now, the sleek red jacket is synonymous with the franchise. Jackson set the trend in 2000's SHAFT, with help from renowned costume designer Ruth Carter and fashion designer Giorgio Armani. In an interview with the LA Times, Armani said, "When Richard Roundtree created the original Shaft character, a classic leather jacket was that film's wardrobe centerpiece. I was inspired to repeat that phenomenon for Sam Jackson, but decided he could handle a more radical look. I played with the cowboy duster silhouette, giving it an urban warrior spin."
He continued, "I would like for [audiences] to remember the character's coolness. His confident strut, his fearless demeanor, his utterly commanding style. Shaft is the alpha male with the ultimate attitude and a wardrobe to match. He doesn't even need a badge; the leather jacket says it all."
Now, in the new SHAFT, all three Shaft men sport the same effortlessly hip look, as pictured above. We can't wait to see what else costume designer Olivia Miles worked up for the family in this outing, which arrives at AMC this weekend.
Clothes Make the Men (and Women)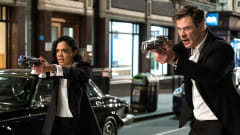 Chris Hemsworth and Tessa Thompson join the Men in Black as Agents H and M to carry on the Earth-saving responsibilities of Agents J and K (Will Smith and Tommy Lee Jones) in the first three MEN IN BLACK movies — only this time, the biggest threat is coming from within their own organization.
From the beginning of the franchise in 1997, the MIB have worn classic black suits, which are always stylish, but not so striking they stand out and potentially blow the agents' cover. The suits in MEN IN BLACK: INTERNATIONAL are a bit different, however, according to costume designer Penny Rose. For starters, the cast are all wearing suits made by renown British designer Paul Smith. They're slimmer, more bespoke and more stretchy to accommodate the outrageous stunts. Tessa Thompson, the first MIB field agent we've seen on the big screen, gets her own special double-breasted, two-button suit.
In an interview with Collider, Rose said, "I think when there's a time gap and then you do it again, you need to freshen the whole thing up. You don't really want to use any of the same stuff. And it's not that the other designer didn't do a marvelous job; it's just incumbent to slightly tweak it."
We'll see the updated looks when MEN IN BLACK: INTERNATIONAL opens this weekend at AMC.