GLASS is a sequel that was 19 years in the making. But should fans of M. Night Shyamalan have to wait another 19 years to see where this story goes?
That's the topic being tossed around AMC recently, as we watch Shyamalan's new hit movie climb the box office charts. After three straight weeks in the No. 1 slot, GLASS has earned an estimated $90 million domestically and a whopping $202 million worldwide. Fans have turned out to see where the storylines that started in UNBREAKABLE and SPLIT would go. And the director certainly left a few dangling threads that could be explored. But should he?
Let's talk about what happened in GLASS and debate whether a sequel makes sense.
Needless to say, we're going to be getting into spoilers for GLASS, SPLIT and UNBREAKABLE in the following article, so stop reading now if you don't want to know any details.
The Glass Ending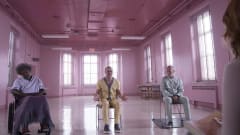 The big twist that was revealed at the end of GLASS is that Dr. Ellie Staple (Sarah Paulson) isn't really a psychiatrist, but a member of a secret society that eliminates people who possess superhuman abilities. Part of her task is to identify people who once passed as superheroes (or villains) in comic book stories, so the tests she was running in the institute on Kevin (James McAvoy), Elijah (Samuel L. Jackson) and David (Bruce Willis) were bogus … or part of a larger design.
However, Elijah was one step ahead of Staple. Though he was killed in the final confrontation outside of the hospital — in addition to David and Kevin also losing their lives — Elijah hacked into the facility's security cameras and shared the footage with the world at large. His ultimate goal was achieved. The "secret" lives of the comic book heroes Elijah always believed in were no longer secret.
So, what will society do with this knowledge?
A Possible Sequel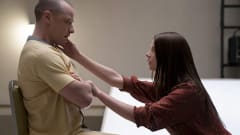 If anything, a continuation of the story that started in GLASS would have to be as much of a left turn as SPLIT was to UNBREAKABLE. Audiences may recall that SPLIT was really just the story of a man (McAvoy) and his multiple personalities, until an end-credits scene featuring Bruce Willis revealed that this was a story set in the UNBREAKABLE universe. That opened the door for the return of Samuel L. Jackson's Elijah and the conclusion of the narrative launched in UNBREAKABLE back in 2000.
A GLASS sequel would likely springboard to a new story that would focus on the Illuminati-type organization fronted by Sarah Paulson. We learn very little about the secret society, but what we are told is fascinating and bears exploration. According to GLASS, this group has been tracking and suppressing "supers" for 10,000 years, which means there are countless stories of encounters its agents likely have had, in cities around the globe. Paulson, herself, was talking to the group about leaving Philadelphia for New York City when news of Elijah's footage leak dropped. Why was she going? What powerful being awaited her there? A sequel that follows Paulson's character and her team could be intriguing.
Why It Might Not Happen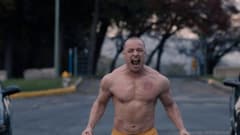 For fans of UNBREAKABLE and SPLIT, that journey really reached its natural conclusion with GLASS. The key players —Kevin, David and Elijah — all died at the end of this story, and while Elijah's reveal to the rest of the world could open up any number of cans of worms for M. Night Shyamalan to pick through, it really does feel like he has said all that he wants to say about the superhero genre, and that type of storytelling, with GLASS.
Also, M. Night Shyamalan doesn't typically do sequels. Outside of this unusual UNBREAKABLE trilogy, the director has avoided sequels in favor of exploring new worlds and characters every time out, so we don't really see him compelled to crank out another story in this saga. The main characters from the chief story are gone. Let them rest in peace.
What do you think? Were you so intrigued by the big twist in GLASS that you want to learn more about Ellie Staple's organization? Are you curious what happens once Elijah's footage is leaked to the world? Or did M. Night Shyamalan stick the landing and earn the right to put a lid on this overall tale?
GLASS is playing at an AMC theatre near you. Check local listings for the next screening.