Twenty years ago, we were introduced to The Dude, a lovable slacker without a care in the world — except his bowling score and where he was getting his next White Russian. (That is, until a couple of thugs turned his life upside down.) Now, The Dude is back at AMC for a special, two-day anniversary event.
From the Academy Award®-winning Coen brothers, THE BIG LEBOWSKI is a hilariously quirky comedy starring Jeff Bridges, John Goodman, Julianne Moore, Steve Buscemi, Philip Seymour Hoffman and John Turturro. Jeff "The Dude" Lebowski doesn't want any drama in his life … heck, he can't even be bothered with a job. But, he must embark on a quest with his bowling buddies after his rug is destroyed in a twisted case of mistaken identity.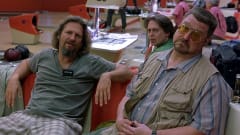 Over two decades, THE BIG LEBOWSKI became a cult classic, but it wasn't always well-received. The film only made $5 million in its opening weekend and barely covered its $15 million budget in its entire theatre run. Today, fans still gather for Lebowski Fest (now in its 17 year), and the film is preserved in the Library of Congress's National Film Registry as one of 700 "culturally, historically or aesthetically significant" films. Who knew a slacker could inspire and accomplish so much?
Experience the cultural phenomenon of THE BIG LEBOWSKI August 5 and 8 at AMC, with exclusive insight from Turner Classic Movies. Get your tickets today.