The Men in Black, over the years, have been powerful pairings. Usually, we associate the team with Will Smith and Tommy Lee Jones. But MEN IN BLACK producer Walter Parkes thinks he has something special in the new pairing of Chris Hemsworth and Tessa Thompson, and he's throwing out classic silver-screen comparisons to describe the chemistry that will be on display in this summer's MEN IN BLACK: INTERNATIONAL.
"These characters, there's some like Princess Leia/Han Solo in there. There's Hepburn and Tracy, you know, there's ... a real sort of texture, and to me, when we're really singing, it reminds me of some of those iconic duos," Walter Parkes told CinemaBlend during a recent trip to the London set of MEN IN BLACK: INTERNATIONAL.
Those are some iconic duos, but the interplay shared between Hemsworth and Thompson could truly live up to that hype. Audiences have seen the two in action a few times already. They teamed up as Thor and Valkyrie in both THOR: RAGNAROK and AVENGERS: ENDGAME, which is cleaning up at the box office at the moment. But in MEN IN BLACK: INTERNATIONAL, we'll see a different side of their dynamic.
"[Our characters] both misunderstand each other, and one thing that we've talked about a lot, Chris and I, is this idea of what do they teach each other?" Tessa Thompson told CinemaBlend. "I think that was something that was so touching about Will and Tommy's dynamic for the course of the three films is you felt like they really offered each other something. They were able to just be better men, frankly, from being in the company of each other, that they made each other stretch and grow in a way. And that's played with the easiness that this franchise has, but that it's inherent."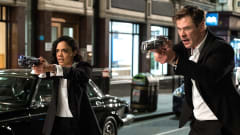 When Tessa Thompson's Agent M travels to London to meet and team up with Chris Hemsworth's Agent H, she finds an overly confident alien tracker who may not be as good as he believes.
"My character certainly kind of does things his own way," Hemsworth said. "He's pretty reckless in his approach, and he doesn't take advice from others. He works alone, usually. And then in this particular instance, [my character and Tessa's character] sort of teamed up together, I think outside of either of their first choice. They'd prefer — she'd probably rather be saddled with someone a little more [laughs] on book. But as I said, it gives us somewhere to go and gives us a nice arc."
Don't instantly expect there to be romantic sparks, however.
"I think with a lot of those [iconic pairings], there's this undercurrent of emotion, but there are so many directions in which the relationship can go," Walter Parkes said. "And the thing that really is the most exciting about those relationships, I think, is a true meeting of the mind and of wit, and a sort of back and forth with that. That creates tension."
It's been years since the MEN IN BLACK franchise has graced the movie screens, and we're excited to see all of the different changes and innovations that will come with MEN IN BLACK: INTERNATIONAL. But from the sounds of these quotes, the series is betting big on the pairing of Chris Hemsworth and Tessa Thompson.
They will be joined on screen by Liam Neeson, Emma Thompson, Rafe Spall, Rebecca Ferguson and more when MEN IN BLACK: INTERNATIONAL opens in theatres on June 14.