We love all of the facets of Liam Neeson's illustrious career, but his work as an action star may be our favorite. He's incredibly good at playing driven and super-capable everymen. COLD PURSUIT, coming to AMC® on February 8, puts Neeson's special set of skills to work in a story with a snowy and serious pedigree.
The TAKEN actor stars as Nels Coxman, a snowplow driver who tries to scrape a drug cartel off the streets of his town. Coxman has a good life; his work is so valued by his Rocky Mountains resort town that he is named "Citizen of the Year." But the town has a dark side. When his son dies, seemingly of a drug overdose, Coxman suspects foul play — and unleashes a blizzard of pain on those responsible.
Neeson's new movie is based on the 2014 Nordic thriller IN ORDER OF DISAPPEARANCE, and it even comes from the same filmmaker. Here's the lowdown on the film that inspired COLD PURSUIT.
An Orderly Revenge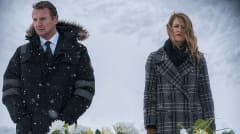 For IN ORDER OF DISAPPEARANCE, Stellan Skarsgård played Nils Dickman, and his story follows a very similar trajectory. Small town, dead son, violent revenge. If that sounds glib, well, the original film is pretty cheeky. Think FARGO, in that the justice meted out by Mr. Dickman has a bleak, funny vibe.
Part of the film's strange tone is inherent to the main character. The movie's original Norwegian title, KRAFTIDIOTEN, basically means "The Prize Idiot." That makes sense given the Citizen of the Year award — and suggests Dickman is mocked as much as appreciated by his town. So, when he goes on a rampage, the film understands the whole idea is kind of ridiculous.
Skarsgård executes his role with a precise deadpan style that further underlines the story's ironic undertone. The very point is that he's not an American action hero — he's not Liam Neeson, in other words. Which makes us very curious about a version of the story that does star Neeson. The COLD PURSUIT trailer suggests the original film's black comedy remains. Will its star get to play with his image?
A Second Chance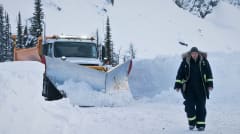 The icy IN ORDER OF DISAPPEARANCE was warmly received, so a remake going into production isn't very surprising. What's unusual is that COLD PURSUIT comes from the same director, Hans Petter Moland. Even he knows the situation is out of the norm. Moland said:
"It's a little bit like having put on a play somewhere in a far off region, and then being asked to put it on for a new audience — for a greater audience — you do that all the time. It's not so common with films. I mean, films are remade all the time but not necessarily by the same director, and I think the common idea is that you shouldn't redo your own film, but I thought I'd try to prove that wrong."
In addition to being curious about how Liam Neeson will play the role, we're looking forward to seeing how Moland will revisit the material as a whole. For IN ORDER OF DISAPPEARANCE, for example, each drug runner Dickman rubs out is marked with a screen "honoring" the departed. We don't know if that particular touch will also count off Neeson's vengeful activities. Either way, we're hoping for a snow day, so we can take the first opportunity to see COLD PURSUIT on the big screen.
COLD PURSUIT hits AMC theatres on February 8, 2019.