STAR WARS fans have December 20th circled on their calendars. That's the day the decades-old Skywalker Saga draws to a close in J.J. Abrams' highly anticipated STAR WARS: THE RISE OF SKYWALKER. The movie is expected to continue the story left open in STAR WARS: THE LAST JEDI, but also conclude a narrative that dates all the way back to 1977's original STAR WARS.
But what comes after that? Disney isn't going to get out of the STAR WARS business just because the Skywalker Saga is concluding. In fact, the studio recently confirmed that it has release dates for three untitled STAR WARS movies on its current calendar. They will be arriving in theatres on December 16, 2022; December 20, 2024; and December 18, 2026.
We also have an idea of what these movies will be about … sort of. There are no specific details about what will be in the STAR WARS movies beginning in 2022. But there were two creative options that Disney was looking at, and according to the studio's CEO Bob Iger, they've picked a lane.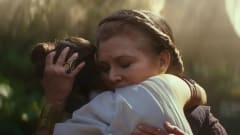 Two creative outlets were working on STAR WARS stories at the same time. On one side, STAR WARS: THE LAST JEDI director Rian Johnson had pitched a concept for a trilogy of films that would be disconnected from the work that he did on THE LAST JEDI. Also, David Benioff and D.B. Weiss — the showrunners behind HBO's massive hit "Game of Thrones" — had cooked up a concept for a potential STAR WARS trilogy.
Which one will we see in 2022? Bob Iger concluded a recent Disney investors call with the news that Benioff and Weiss would get the next STAR WARS movie in theatres after THE RISE OF SKYWALKER.
We don't know, however, what story they plan to tell. There have been two strong rumors that have swirled around the potential trilogy from the "Game of Thrones" guys. One says that they'd go back to much earlier times on the STAR WARS timeline and tell a Knights of the Old Republic saga. Others think that Benioff and Weiss might be the ones who want to tell an Obi-Wan Kenobi trilogy, with Ewan McGregor back in the lead role.
It's also very possible that Benioff and Weiss will deliver a STAR WARS movie for 2022— the first of their proposed trilogy — but then Rian Johnson would kick off his own trilogy in 2024, giving Disney and Lucasfilm two trilogy stories running concurrently that could carry STAR WARS through the next 10 years.
Either way, we know that after STAR WARS: THE RISE OF SKYWALKER in December 2019, there's going to be a break.
"We will take a pause, some time and reset," Bob Iger said, according to Esquire. "Because the Skywalker Saga comes to an end with this ninth movie. There will be other STAR WARS movies, but there will be a bit of a hiatus." (source)
But the next three STAR WARS release dates have been carved into stone, and we know that David Benioff and D.B. Weiss will be shifting from the immensely popular "Game of Thrones" to a galaxy far, far away.