Destin Daniel Cretton knows family dysfunction, exacerbated by living in close quarters.
He and his five siblings grew up in Hawaii, in a "tiny shack in the country" — similar to Jeanette Walls, who, over the course of her childhood, moved between run-down homes, a car and the desert floor with her two sisters, Lori and Maureen; brother, Brian; alcoholic father, Rex; and eccentric artist mother, Rose Mary.
"So many of the visuals and descriptions of Jeanette's upbringing really matched my own, in particular, the really strong family bond they had," Cretton said. "Even though they didn't have much, they always had this underlying love."
The family's closeness (despite their crazy lifestyle) connected Cretton to THE GLASS CASTLE, the best-selling memoir by Jeanette Walls, and impassioned him to co-write and direct the film adaptation, which opens Friday, August 11.
Like the book, the movie narrates Jeanette's true coming-of-age story of growing up poorer than poor and nearly homeless in Appalachia, skedaddling from one small town to the next every time Rex loses his job or gets into trouble with the law or IRS. Despite his embellishments of their situation — and Rose Mary's complacency — Jeanette is painfully aware of the chaos that surrounds her. There's a constant tug of war between her emotions: She yearns for a better life in New York City, but feels guilty for leaving behind her roots. This inner turmoil stays with her into adulthood, when she has to decide whether to hide or accept who she is.
Though THE GLASS CASTLE is a fairly quick read (just shy of 300 pages), a lot happens to Jeanette and her family, and a large span of time is covered. Keeping every scene within the film's two-hour runtime would have been impossible. Cretton needed an axis.
"What I connected with most was Jeanette's relationship with her dad, that complicated love mixed with pain," he said. Their story became the focal point.
"That idea of who we are as a result of who our parents were and how we were raised is something I constantly think about. For me, when I was reading the book, the moment the hair on the back of my neck stood up was when I saw Rex Walls in the context of his own parents, in the context of the house he grew up in. That was the moment my understanding of him completely flipped. At its core, the movie is about Jeanette trying to rediscover who she is in the context of her parents."
Cretton and his team couldn't have picked a more perfect cast for the roles: Woody Harrelson as Rex, Naomi Watts as Rose Mary and Brie Larson as Jeanette.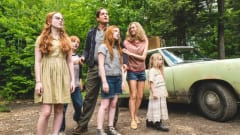 "[The Wallses] are all such big characters that with certain actors, they could have turned into caricatures. That's the last thing I wanted was a version of Rex that came across as insincere — because he is wild and crazy and says lines that sound like they were written in a Western movie," Cretton said. "There is a part of him that is kind of acting through life, but then there's also a side of him that's incredibly sincere and incredibly passionate and loving … and broken."
Harrelson captured all of Rex's different sides and made him believable, even sympathetic; Watts embraced Rose Mary's quirks and absurdities, but also genuineness; and Larson completely embodied the real Jeanette, who wanted Larson to play her.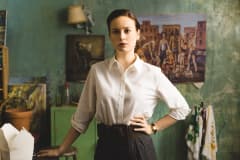 "Brie is unusually in tune with herself, just as a person. I think that honesty comes across in her performances. Whenever we're exploring a scene together, whatever comes out of her, is almost always authentic and true to the moment. It's really fun exploring the scene with her and trying to find the balance and tone of that scene."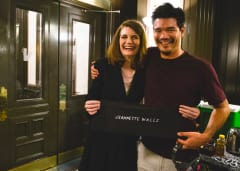 The real Jeanette was involved with almost every aspect of the film, from the writing process through production. Each scene was taken directly from her book or inspired by stories she shared with Cretton: what her desk looked like at New York Magazine, what her upscale apartment felt like, what she and her family wore — down to the small details, like the pens Rex always kept in his shirt pockets.
"One of the most influential things to me, aside from the book obviously, was meeting Jeanette and meeting her mom, Rose Mary, in Jeanette's home. Seeing them interact together was the first time I personally witnessed how much love is hidden just below the surface of a very complicated relationship," Cretton said. "The way they talked about the pain in their life was always through positivity and humor. That was really inspiring to me, and we tried to infuse that into the movie."
We'd say he nailed it. Whether you're already a fan or you've never read the book, you will be moved by THE GLASS CASTLE and its message of hope in the face of struggles.  
"I hope the film does for some people what the book did for me and what I know the book does for a lot of people. It allowed me to not feel so alone. I think there are a lot of things in this story that connect with so many people on so many levels. Whatever that is, when that does connect with you, it allows you to realize there are other people in this world that are going through things that are similar to what you are going through or have gone through. To me, that's the power of Jeanette's story: watching her process through these experiences and come out the other side a whole person."
Don't miss THE GLASS CASTLE in theatres this August. Get your tickets today.