To capture the weight of big subjects, sometimes a movie has to go small. THE LAST BLACK MAN IN SAN FRANCISCO, directed by new talent Joe Talbot, follows just a few characters, but their story encompasses an entire city.
The film is a personal story about a man trying to reclaim his family home, but it ends up being about all of the ways cities can change. Specifically, the movie is an ode to San Francisco — both the beautiful and the ugly aspects — that shows moments and people few other films have caught. It's a gorgeous, unique movie and one where the small scale conceals huge emotions.
A Home of His Own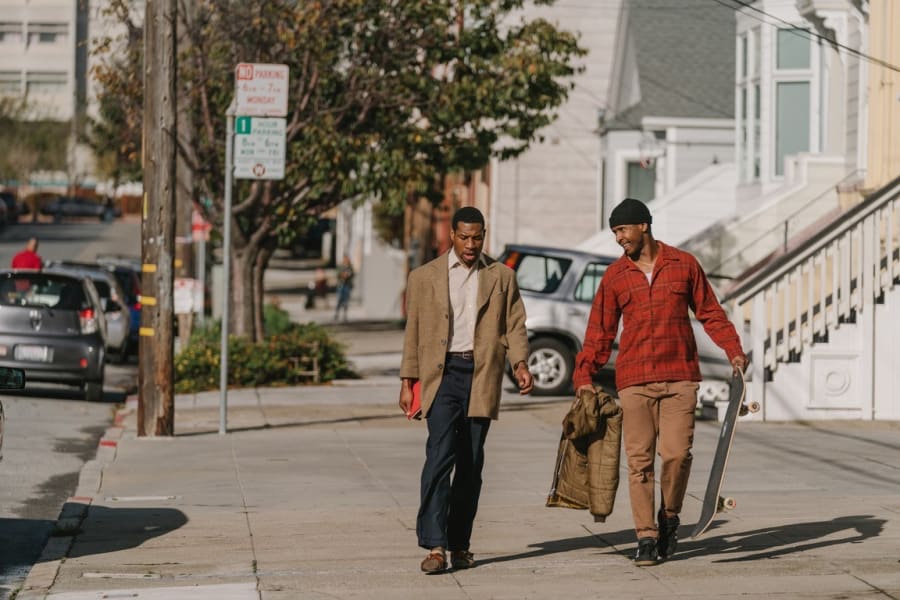 Jimmie Fails co-wrote and stars as a character named Jimmie Fails, based to some extent on his own life. Talbot and Fails grew up together in the Bay Area, and they inject their own deep love of San Francisco into the film. Through them, we see a city that is on the verge of vanishing. The film's San Francisco is one where, as the title suggests, there is little room for black people.
Jimmie works as a nursing home attendant, and he has one big dream: to reclaim the Victorian mansion where he grew up. But San Francisco has become one of the most expensive cities in the world, and rapid gentrification has changed the Fillmore neighborhood, once called "the Harlem of the West," where Jimmie once lived. The black families who lived there have all been squeezed out. Jimmie can't possibly buy back his family home, which now costs millions, and it eats away at him.
The Fallibility of Family
The home, of course, is a symbol and not just for one thing. It reminds Jimmie of a time when life seemed easier and when his family was all together. It seemed like there was a future for a guy like Jimmie in San Francisco back then. But that family unraveled, just as the city has spun out of control around him.
Then, there's the fact that family legend says that Jimmie's grandfather built the house himself and even that he was the first black man in San Francisco. Whether or not those stories are true might not entirely matter. But Jimmie has created such a personal mythology around the home that those stories hold great weight for him — and when he starts to hear how it really happened, his world changes even more.
Seizing an Opportunity
We're not going to spoil all of the pleasures of the film, but we'll say this: Jimmie sees a chance to finally achieve his dream, and he seizes it. He does this in the company of a close friend, Montgomery, played by Jonathan Majors. Montgomery comes from a different neighborhood, one that never had all of the appeal of the Fillmore, and he still lives there with his grandfather (Danny Glover).
THE LAST BLACK MAN IN SAN FRANCISCO spends time cruising around the city with these two friends, and their bond is the heart of the film. Even as the script lingers on tough topics like the inequality of change, the racism that existed even in the idolized old days of SF, and Jimmie's seemingly unattainable dream, the film itself revels in small moments of beauty and the genuine bond between the characters. We haven't seen a film like this in a long time.
THE LAST BLACK MAN IN SAN FRANCISCO comes to AMC on June 14.