The Last Jedi Panel ----EEEK!!!!
Reminiscing about how it all began yesterday was fun. So was being shoulder to shoulder with some of the biggest Star Wars fans on the planet. But, let's keep it 100, we're here to hear about The Last Jedi. And while we didn't get any spoilers, we DID get to hear from the cast, the director, see the new poster…oh and see the trailer! Day. Is. Made! Here are some other highlights from the epic (yeah, we said it), EPIC Last Jedi Panel.
They're Fans Just Like Us
Josh Gad, hosted the panel and really let his Star Wars fanboy flag fly. He started off by sharing an Instagram story of how he's been pleading with his Murder on the Orient Express co-star Daisy Ridley to give him some Last Jedi intel. To date, she has shut him down, every time. See the funny Instagram story here.
Josh then went on about his Star Wars fandom, "I skipped school to stay in line for the 1999 Phantom Menace midnight premiere," he said.  "Then skipped school the next day to watch it three times in the same day." Now that is some serious Star Wars dedication. We hope his teachers understood.
Speaking of being a fan, when The Last Jedi director Rian Johnson came out (to a standing ovation no less), he shared that he hung out with the fans that had been camping out since 3AM the night before – talk about a surprise and delight for them! "I love the positivity and encouragement of the fans," Johnson said. "We have the best fan family in the world!"
More from Rian and Kathleen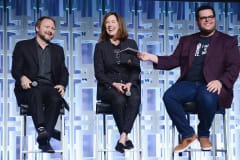 When President of LucasFilm, Kathleen Kennedy and Rian were on stage together, Kennedy had nothing but glowing things to say about the director. "He is on his way to standing alongside some of the great filmmakers," she said. "He writes amazingly fierce and independent women, and he has a great sense of humor." This just made us even more geeked for the movie, and from the audience's reaction, we were not alone. Is it December yet?
The two then spoke about Carrie Fisher and her role in the film, saying that she has a big role in the film and that is "an amazing tribute to her talent." In case you missed it, yesterday's panel included a beautiful tribute to Fisher. If you haven't seen it, check it out here.
The Cast, the Poster the Trailer – OH MY!?!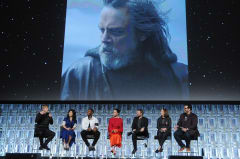 The Last Jedi cast members – Daisy Ridley, John Boyega, newbie Kelly Marie Tran, Mark Hamill and BB-8 were all on stage to dodge spoiler requests from Josh Gad. While they did a great job of avoiding spoilers, they did share some insight about the film.  Daisy Ridley spoke about her character's relationship with Luke Skywalker, "Rey has a certain expectation as to what she might be getting from Luke," Ridley said. "It's difficult to meet your heroes because it might not be what you expect." After which lead to an audible gasp from the crowd, us included! What does this mean? Are we missing something? So many questions. Let the theories begin!
When asked about what she's most excited for she replied, "For the fans to hear Luke's first words." Again we say, is it December yet?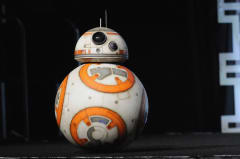 BB-8 also came out rolled out and gave an interview to Josh. This consisted two things, 1)  Josh asking questions and 2 )BB-8 being completely silent. We loved every moment of it.
After the cast interviews the audience was treated to a sneak peek at the poster. You can see it here. And then treated again when they found out that they were giving the poster out after the panel. And then treated AGAIN when they showed The Last Jedi trailer not once but twice!  You can watch it again and again for yourself. Just head over here.
Now we know you aren't there with us to enjoy all of this year's Star Wars Celebration. But we want to share a piece of the fun with you. We're giving away a Star Wars Celebration 40th Anniversary hat and mug on our Twitter page. To enter for your chance to win, all  you have to do is FOLLOW us on Twitter and RETWEET this post. We'll randomly select a winner next week. Good luck and check back for even more fun from Star Wars Celebration!