Fifty years ago, "Mister Rogers' Neighborhood" premiered on television and invited young viewers to learn about themselves, others and the world around them in a safe space with host Fred Rogers. Rogers was a pioneer in kids' educational programming. He believed we should treat, teach and talk to children with kindness, a revolutionary philosophy in the 1960s.
Though his legacy lives on, Rogers' caring voice is missing from society, during a time we desperately need more goodness. That's why Academy Award®-winning director Morgan Neville created the documentary WON'T YOU BE MY NEIGHBOR? to remind us "love is at the root of everything."
We met Neville, François Clemmons (Officer Clemmons) and David Newell (Mr. McFeely) at a screening of WON'T YOU BE MY NEIGHBOR? at AMC Waterfront in Pittsburg, near where Rogers grew up. The people of Pittsburg love three things: the Steelers, the Penguins and Mr. Rogers. The city even has a statue of him.
When Neville first arrived in Pittsburg to film the documentary, the cab driver told him, "You better not screw this up." Needless to say, Rogers is especially dear to this community, as well as to his former co-stars, Clemmons and Newell.
Both actors smiled as they reminisced about their late friend. Clemmons, whose larger-than-life personality filled the room, described Rogers as a surrogate father who taught him how to love himself as he is. Newell, after he shook hands with our entire crew, talked about Rogers' compassion for children and how he mirrored those lessons in his own parenting.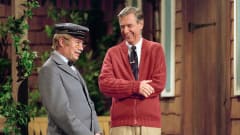 Rogers' wife, Joanne; sons Jim and John; and many friends and peers all appear in WON'T YOU BE MY NEIGHBOR? to their share memories.
Neville's documentary is not a biography, but rather an intimate and moving journey beyond the sweaters and sneakers. Through one-on-one interviews and old videos of Rogers, we are able to see the heart of a creative genius who inspired generations.
Everyone wants to know if Rogers was really the person he portrayed on TV. The answer is a resounding yes. He was just as genuine and kind in real life.
He had a singular vision: to help children through difficult times. He never forgot what it was like to be a vulnerable, self-conscious kid, and he felt a responsibility to youth — a responsibility we all share.
Teachers, parents, caretakers and fans of "Mister Rogers' Neighborhood" will love to hear Rogers' message again, now on the big screen in WON'T YOU BE MY NEIGHBOR? Get your tickets today at an AMC near you.