Ebbing, Missouri, is your typical small town: Everyone knows everyone's name and business. Their downtown has one short main street lined with local boutiques — including a souvenir shop owned by Mildred Hayes — and the Ebbing police department.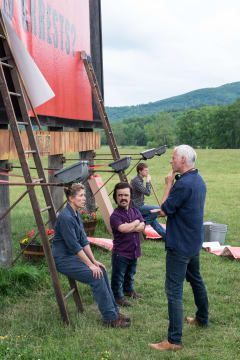 Just outside of town, there are three rundown billboards on a deserted road. Not many people drive past them, but Mildred does … every day. This is the same road where her daughter was murdered seven months ago, and Mildred sees the old signs as her opportunity to get justice.
She hires an advertising company to paint a bold message directed at the town's revered chief of police, William Willoughby. Word gets out — it is a small town after all — and shortly after, peaceful Ebbing erupts into violence and destruction.
THREE BILLBOARDS OUTSIDE EBBING, MISSOURI is a darkly comic drama written, directed and produced by Academy Award winner Martin McDonagh (IN BRUGES). Frances McDormand stars alongside Woody Harrelson as Chief Willoughby and Sam Rockwell as his second-in-command officer, Dixon, an immature mother's boy with a penchant for booze-induced rage.
The tension between the characters is palpable. Mildred's anger runs deep not only toward the police for not solving the case, but also herself — in particular, for the last thing she said to her daughter.
Though she comes across as cold, hardened by grief and regret, Mildred and the chief share intimate, tender moments that remind us we're all human. We misplace pain. We make mistakes. And the film needs these moments, as well as breaks of laugh-out-loud comedy, to keep us hopeful.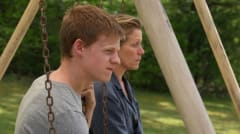 McDormand's portrayal of the mournful but tough mother is possibly her best performance to date — one that may very well earn her a best actress nomination. Her co-stars revealed McDormand was inspired by John Wayne movies, and you can see his influence in Mildred's walk, cowboy attitude and unfiltered tongue. Watch the interview below.
THREE BILLBOARDS OUTSIDE EBBING, MISSOURI, proves no one is fully bad or good, as McDonagh said in a red carpet interview at TIFF, where the film received the coveted Grolsch People's Choice Award. The drama has launched with the second best limited opening of 2017 and scored an audience approval rating of 97 percent on Rotten Tomatoes. Critics are praising the film, too, as a best picture contender.
We couldn't agree more. See THREE BILLBOARDS OUTSIDE EBBING, MISSOURI, at an AMC theatre near you. Browse showtimes and get your tickets today.