For decades, Shaft has been synonymous with action and attitude. You mention the name, and savvy audience members can practically hear the signature guitar riff that accompanies Detective John Shaft as he patrols the streets and takes bites out of criminals.
The franchise will return to theatres this summer when director Tim Story's SHAFT screens for crowds. But for the very first time, the sequel will combine all three generations of actors who have portrayed Shaft on the big screen into one genre-blending action-comedy thrill ride.
When tracing the timeline of Shaft, it all starts with Richard Roundtree. The legendary actor first portrayed Detective John Shaft in the 1971 movie SHAFT, helmed by Gordon Parks. Infused with attitude and style, SHAFT created a hero that blue-collar moviegoers could identify with, and the first movie spawned two sequels that carried the series through the early 1970s.
SHAFT went on the shelf for decades after that, only to be revived in 2000 as a vehicle for Samuel L. Jackson. Very few actors have the star power to step into Roundtree's iconic role, but Jackson — with BOYZ N THE HOOD director John Singleton — brought the right mix of defiance and wit to the character.
Jackson's Shaft was revealed to be the nephew of the 1970s' Shaft, meaning that the movie existed on a timeline where Richard Roundtree started the continuity, and they were connected on a family tree. (Roundtree even delivered a cameo in the film, passing the baton to Samuel L. Jackson in a fitting tribute.) That connectivity is now being explored in this summer's SHAFT, which is going to bring yet another family detective into the bigger picture.
Tim Story has cast Jessie Usher as John "JJ" Shaft Jr., the son of Jackson's Shaft and the grandnephew of Richard Roundtree. Usher's character works for the FBI and is a cyber-security expert who gets pulled into an investigation after his best friend is killed. The case will require JJ to get help from both his estranged dad and his granduncle, meaning all three Shafts will be in action together for the first time ever.
SHAFT feels like a franchise that can come back to theatres every few decades, with new actors stepping into the massive shoes to see what type of crimes and social injustices the detective can exploit. So long as the new storytellers remember the tone and vibe that was created by the original SHAFT, the audience for this franchise likely will continue to flock back to multiplexes to see where the SHAFT saga goes next.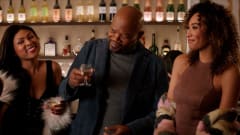 Not all superheroes wear capes. Some of them wear long leather coats and sunglasses. See three of them together when the new SHAFT opens in theatres on June 14.