One moment can change everything. MONSTERS AND MEN is the timely story of how one tragedy, on an otherwise typical Monday night, impacts an entire community.
In his directorial debut, Reinaldo Marcus Green creates a complex and nuanced picture of police violence and race in America. Set in tight-knit Bed-Stuy, Brooklyn, the drama is told from three perspectives.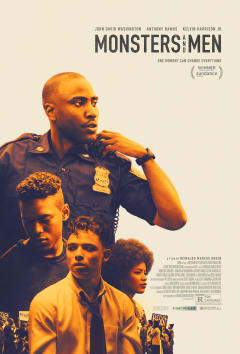 Manny (Anthony Ramos) is throwing dice in an alley with his friends when he witnesses and records the police killing of an unarmed black man on his phone. He's torn between posting the video online or quietly moving on with his life and family. Zyric (Kelvin Harrison Jr.), a young athlete destined for greatness with as a big leaguer in the MLB, considers participating in a protest and how that may affect his future. Dennis (John David Washington) is an African American cop stuck between two worlds as he weighs standing by his fellow officers or testifying against them. Each man, in his own way, is forced to confront and decide between the right thing to do and the least consequential thing to do, which may not always align.
In an interview with IndieWire, Green discussed his inspiration for his Sundance Award-winning film. "It was a conversation that I had with a cop friend of mine. We were talking about a video tape that we had both seen, and we were seeing two different things. His side is just as important as my side. Just because I don't agree means I need to investigate myself."
Green continued, "Having a platform and a film to be able to say, 'OK, I can finally say the things I've wanted to say and have kept quiet for a long time' but I still want to do it responsibly … There's always going to be the core principle of love in whatever I do and caring about people."
Tickets for MONSTERS AND MEN are on sale now for the September 28 release. Get yours at AMC today.