Spoilers for SPIDER-MAN: INTO THE SPIDER-VERSE ahead — you've been warned!
Long before it proved to be a box office hit, and even before it picked up an Oscar® nomination in the Best Animated Feature category, SPIDER-MAN: INTO THE SPIDER-VERSE learned that it was going to get a sequel. This makes sense, as the movie ends basically with Miles Morales (Shameik Moore) defeating Kingpin (Liev Schreiber) and accepting his role as Spider-Man. OK, one of many spider-men. The story can go in a million different directions, so let's talk out some possibilities while we wait on the official word from Sony Pictures Animation.
The Hollywood Reporter first broke the news that Sony Pictures Animation was moving forward with a SPIDER-MAN: INTO THE SPIDER-VERSE sequel back in November 2018. Not only would the movie spawn a traditional sequel, but there's also plans for a spinoff movie that will focus primarily on all of the female characters introduced in INTO THE SPIDER-VERSE (while, undoubtedly, finding room for even more characters).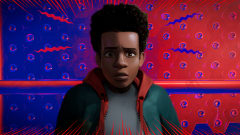 The key scene that tips off how a sequel can move forward is the very last shot of the animated feature. Miles Morales (Moore) is relaxing in his bed, having succeeded in sending the multiple spider-characters back to their respective parallel universes. But the ceiling in his bedroom starts to shape-shift, and through a void, he hears the voice of Spider-Gwen (Hailee Steinfeld) calling to him.
This means that Miles and the spider-folks don't need the collider that was at the heart of the story to communicate between dimensions anymore. Gwen somehow is able to open the portal between worlds at anytime — it was the collider's explosion that brought all of the spider-people into Miles' world in the first place — meaning that the portal seemingly could be opened to an endless number of parallel universes, each having its own version of Spider-Man.
This, after all, is how we met Peter Porker, the spectacular Spider-Ham (John Mulaney), as well as Peni Parker (Kimiko Glenn) and Spider-Man Noir (Nicolas Cage).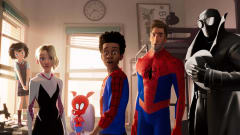 The sequel should bring a handful of new characters to life. While making the press rounds on behalf of SPIDER-MAN: INTO THE SPIDER-VERSE, co-writers Phil Lord and Chris Miller talked about Japanese interpretations of Spider-Man that they thought about using, as well as an Australian Spider-Man whose body clock would be in a different time zone, creating all sorts of jokes.
But a sequel to SPIDER-MAN: INTO THE SPIDER-VERSE also has the opportunity to pit Miles Morales against a handful of villains that he previously faced on the pages of his comics. Kingpin and his minions — from Tombstone to the Scorpion — were great for this first installment, and it was important to showcase the Prowler, who turned out to be Miles' uncle, Aaron (Mahershala Ali).
Miles has a number of classic villains who have tried to stop him in the comics, and it would be great to see Electro and his girlfriend, Francine Frye, or Hobgoblin creating waves in Miles' universe.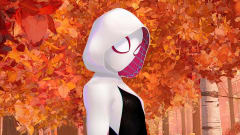 We are equally excited for the idea of a female-driven animated spinoff to SPIDER-MAN: INTO THE SPIDER-VERSE, mainly because Gwen Stacy (Hailee Steinfeld) proved to be such a badass in this initial adventure. Also, there are significant characters from the Spider-Man world that can translate to the big screen here, including Silk, Black Cat, Silver Sable and Spider-Woman. Several of these characters were rumored to get live-action feature films. Introducing them in an animated spinoff might be a better bet.
So long as the creative team behind both of these upcoming INTO THE SPIDER-VERSE movies maintain the beautiful animation that was on display in the current movie, we expect that audiences will flock to AMC in droves. Stay tuned to the AMC Scene for more developments on these properties as they happen.