By the power of Grayskull … where on earth is our He-Man MASTERS OF THE UNIVERSE movie?
In an age where nostalgia for past toys and cartoons fuels everything from TRANSFORMERS movies to the G.I. JOE franchise, He-Man is a project that can't seem to get itself off the castle floor — not that it never did. Dolph Lundgren led a 1987 fantasy/sci-fi adaptation of He-Man (also called MASTERS OF THE UNIVERSE), pitting him against Frank Langella's Skeletor. Let's just say, more than 30 years later, there's room for improvement in this property.
He-Man basically got his start in the early 1980s as a character in comic books and a very popular toy line. Most fans probably know him from the animated series, where his origin positioned him as Prince Adam of Eternia. Whenever he needed to transform into the hulking warrior He-Man, he'd raise his magic sword above his head and shout, "By the power of Grayskull!" Not only would Adam morph into a powerful fighter, but his pet cat, Cringer, would also transform into the savage Battle Cat. They were a formidable team.
The 1980s cartoon populated He-Man's universe with a number of colorful and memorable characters, including his twin sister, She-Ra; Man-E-Faces; Teela; Man-At-Arms; Ram Man; Buzz-Off; and the evil mastermind Skeletor. He-Man's base of operations was Castle Grayskull, which made for an amazing toy set.
So, why has Hollywood struggled for so long to get a proper modern MASTERS OF THE UNIVERSE movie off the ground?
Since 2007, various Hollywood producers have been working behind the scenes to bring He-Man to the big screen. Several big names were attached to the project in development over the years, from Jeff Wadlow (KICK-ASS 2) and McG (CHARLIE'S ANGELS) to Chris McKay. Noted screenwriters like David S. Goyer and Christopher Yost took cracks at the screenplay over the years, but nothing ever got into proper production.
Even the most recent reports that the Nee brothers will begin shooting the MASTERS OF THE UNIVERSE movie in Prague in mid-July seem tentative at best, as we have heard nothing regarding casting, and there will be many key roles to fill.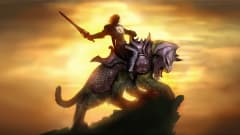 A new He-Man movie could mix the fantasy epicness of "Game of Thrones" with the legacy aspect of a STAR WARS or LORD OF THE RINGS franchise. It could be funny and exciting, and it could open up audiences to a new world not seen on the big screen in too many years. Also, think of the toy sales!
We'll continue to update the AMC Scene with any developments on the possible He-Man MASTERS OF THE UNIVERSE movie.