We are about to be seven movies into the ongoing and ever-expanding DC Extended Universe, an on-screen world that launched with MAN OF STEEL back in 2013 and has seen the introduction of multiple DC superheroes. But David Sandberg's SHAZAM! does things a little differently … and we think it sets the blueprint for how DC can thrive moving forward.
Shazam (Zachary Levi) is a teenager in the body of an adult superhero. He gets his powers from a wizard (Djimon Hounsou) and can transition from boy to man simply by saying the word "Shazam!" Here's what's different about SHAZAM!, though. We have never seen the lead character on screen in a previous DC movie, and there's no sign of other DC heroes in the movie's marketing.
This is a new step for Warner Bros., who, ever since MAN OF STEEL, have been using team-up movies to introduce familiar faces into the DCEU world. Think about it for a second. BATMAN V SUPERMAN: DAWN OF JUSTICE was a sequel to MAN OF STEEL, but that one movie introduced both Batman (Ben Affleck) and Wonder Woman (Gal Gadot), while also showing off Flash (Ezra Miller) and Aquaman (Jason Momoa) in rough video footage. Later on, in JUSTICE LEAGUE, we met Cyborg (Ray Fisher), and the team was rounded out.
Since then, the DC model has been to shift away from team-ups and focus on individual stories, but James Wan's AQUAMAN still relied on Jason Momoa's casting – which began back with BATMAN V SUPERMAN – and Patty Jenkins continues to explore Wonder Woman's universe with Gal Gadot.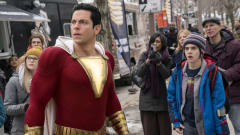 SHAZAM!, however, starts with a clean slate, and it allows director David Sandberg to tell his hero's origin story the way that he wants, without worrying about the baggage of previous films or existing stories. Set in Philadelphia, SHAZAM! can focus on the introduction of young Billy Batson (Asher Angel), a foster kid looking for his mom, who stumbles into the world of magic and superheroes, and then learns to fight for truth and justice.
Is this the right model? It looks that way. Instead of forcing team-up movies in the near future, DC and Warner Bros. appear to be telling individual stories around their top heroes, from WONDER WOMAN '84 in 2020 to the recently announced AQUAMAN 2 in 2022. There will be a JOKER movie released later this year, starring Joaquin Phoenix as the Clown Prince, and a BATMAN movie from Matt Reeves is in development.
It seems that the model being established by SHAZAM!, of allowing DC heroes to grow and thrive on their own, will be employed for years to come. Heroes will be able to establish their own corners of the DC universe, and if paths have to cross because future stories demand it, so be it. But nothing has to be forced.
See for yourself if this works when SHAZAM! opens in theatres on April 5. Be sure to grab your tickets today.