Anne Hathaway and Rebel Wilson team up to take down dirty rotten men in THE HUSTLE, a remake of 1988's DIRTY ROTTEN SCOUNDRELS. They play two scam artists — one low rent and the other high class — and we can't wait to see how their opposite personalities and powers combine, and undoubtedly clash, in the new comedy.
The superstars didn't break out in their careers as bad girls, which makes their new roles all the more exciting. At the same time, the casting makes perfect sense.
Anne Hathaway's Transformation
Hathaway made a name for herself with THE PRINCESS DIARIES, in which she played a frazzled, awkward teen who finds out she's actually a princess. In the decade that followed, Hathaway established herself as America's sweetheart with similarly cutesy roles in ELLA ENCHANTED and THE DEVIL WEARS PRADA.
She also tackled more serious roles in RACHEL GETTING MARRIED and PASSENGERS, but her performance as Selina Kyle, aka Catwoman, in THE DARK KNIGHT RISES proved Hathaway is really a bad girl in disguise (in this case, literally).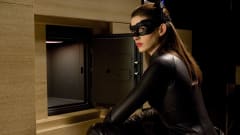 She puts up an innocent façade, which allows her to work in the shadows, no one suspecting a thing. It's this quality that makes her the perfect baddie, as seen most recently in OCEAN'S EIGHT.
Rebel Wilson Ups the Ante
Wilson, on the other hand, exploded onto the scene with sass and wit with her breakout role in the musical comedy PITCH PERFECT. Wilson delivered one of the most iconic lines of the movie, maybe even the franchise, when she explained why she calls herself Fat Amy: "So twig b----es like you don't do it behind my back."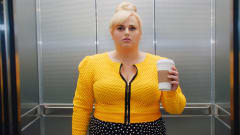 Wilson carried this same unapologetic humor on to roles in HOW TO BE SINGLE and February's ISN'T IT ROMANTIC. Vulgarities aside, Wilson has been far from scam artist status — though we're sure she'll play her new role with some irreverence.
Taking Down the Bad Guys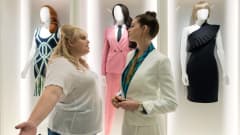 In THE HUSTLE, Hathaway is a sort of criminal mentor to Wilson, which is fitting given their journey to this point. Hathaway teaches Wilson how to "take money from small-minded men," telling her, "Men always underestimate us, and that is what we use."
See how they master the art of the con. Get your tickets to THE HUSTLE at AMC now.