Anyone who sat through Jordan Peele's debut film, GET OUT, more than one time realized very quickly how rewarding a repeat viewing could be. The storyteller layered in subtle hints as to the ultimate destination of his movie, so much so that if you didn't figure out everything that was going to happen in the script, you ignored some clever but blatant clues.
Peele continues to distract and mislead his audiences in his anticipated follow-up to GET OUT, titled US. While this is more of a horror story than GET OUT, Peele also protects a doozy of a twist in the movie, and you are going to want to rush right back out to the theatres to see US a second (or third) time to look for all of the clues that you missed that point to the true nature of the twist.
US co-star Winston Duke recently spoke with AMC and told us that this was by design. He said Peele intentionally structured US so that it would change on a repeat viewing, and one screening of the film simply will not be enough.
"I think a third viewing — a fifth viewing, actually," Duke joked. "No, but, it's one of the things where you can't get the full scope of what's happening from the first viewing. Once you get to the end of the movie, it's interesting to go back to the beginning and see how those things tie in and see the little nuanced body language and behaviors that foreshadowed some of those things. There's a lot of beautiful literary elements that play in this film. A lot of allegory. A lot of foreshadowing. Metaphors. I know on my second viewing, a lot of things came alive that definitely I didn't even understand while I was making it."
That says a lot, that the cast who physically worked on US for months can still be rewarded from reveals that exist inside of the twisty story. US basically tells the story of a family on vacation (led by Winston Duke and Lupita Nyong'o), who endure a home invasion by doppelgänger clones who look exactly like their family … only different.
We can tell you, from experience, that you will be talking about US for days following your screening. It's the type of movie that sticks with you and begs for further discussion, to figure out all of what you just absorbed.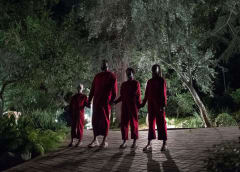 This is also why Winston Duke thinks it benefits people to see the movie early, so you can partake in those conversations — and avoid being spoiled about the movie's secrets.
"I think it's incredibly important to get out and see it early, because you also want to give yourself some time to think about these topics and elements, so you can be part of the discussion when it does start happening," Duke said. "The spoilers are one thing, but the movie is so loaded that I don't think any one thing can really spoil a movie that is this loaded and complex and nuanced and beautiful. We hope that you definitely do not spoil and give away any of the secrets. But I think that's even why Jordan was so generous with the material that he gave in the trailer. It's because there's no one thing that really spoils it."
"It's important to go see it, because it's important to be part of the conversation," Duke continued. "It also helps you reflect on yourself. It feels like a brand-new movie when seeing it with an audience. Last night [at the world premiere] felt like seeing a brand-new movie. Some of the themes and the nuances that the audiences were picking up, I didn't fully see when I saw it the first time. I didn't get all of that. So, sometimes I forget about the shoe that's going to drop."
Be part of the conversation and see Jordan Peele's US at your local AMC today. (You might want to think about getting tickets to multiple screenings, while you're at it.)