Pixar fans probably never expected to go on another adventure with Sheriff Woody (Tom Hanks), Buzz Lightyear (Tim Allen) and the TOY STORY gang after the emotional send-off everyone got at the end of TOY STORY 3. That felt like the conclusion of a trilogy, but a story thread was discovered and pulled by Pixar's storytelling geniuses, and that has led to the upcoming TOY STORY 4.
Naturally, with the return of Woody and Buzz, we became curious if TOY STORY 4 was a one-off anomaly or the start of a series of new movies. Could this lead to TOY STORY 5?
The topic came up during a recent trip to Pixar Animation Studios, where CinemaBlend had a chance to sit down with the creative team behind the sequel to discuss the lead up to TOY STORY 4 and what might come next. The group was hesitant to discuss too much about the future of the franchise. It's commonplace to let the newest movie stand on its own first, before you put your animated cart before the horse named Bullseye.
"Honestly, if this were the end, it would be a satisfying end," producer Jonas Rivera told the outlet.
And these guys know a thing or two about endings. In fact, they admitted that they thought the TOY STORY films were going to wrap up much earlier than this and that TOY STORY 4 would have been a pipe dream.
"To be fair, let's talk out of the other side of our mouths for a minute: We felt that [it was the end] at [TOY STORY] 2," Pixar producer Mark Nielsen admitted.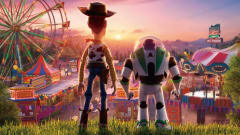 But these storytellers have learned to never say never when it comes to sequels. This is how we have been treated to FINDING DORY, THE INCREDIBLES 2 and MONSTERS UNIVERSITY. So, TOY STORY 4 director Josh Cooley knew enough to keep the door open to the potential of more stories in the TOY STORY universe, even after TOY STORY 4 has had its day.
AMC sat down for an exclusive interview with Cooley as he prepared for audiences to see where the plot in the TOY STORY franchise is about to go. And from there, we also talked to him about what could happen in the future.
"I will say that every single one of the TOY STORY movies has ended on the promise of something new," Cooley said during our exclusive interview. "Even the first one. They have a puppy now! What does that mean? Or in [TOY STORY] 3, they are given to Bonnie. What does that mean? So, every one of them has this, 'Life will continue.' And the end of this one definitely has that same thing as all of them. It's not my decision as to whether this continues or not. But I think we purposefully left it where this could definitely end the TOY STORY films … or not. It just depends if the right idea comes around."
We will find out what the new ideas are behind TOY STORY 4 when the sequel finally reaches theatres on June 21.