The end is here. Do you have your tickets yet?
Naturally, Marvel Studios fans are ready for the arrival of AVENGERS: ENDGAME this weekend, which is promising to deliver a culmination of the first three phases of MCU movies. Not only will ENDGAME conclude the story set up in AVENGERS: INFINITY WAR, but it's also expected to change the course of Marvel's storyline moving forward — so yeah, there will be a lot of spoilers coming out of this movie.
If you don't care about spoilers, that might not be an issue. But die-hard fans will want to avoid hearing anything about the details of AVENGERS: ENDGAME until they have seen it for themselves, which means it's necessary to get into an opening weekend screening. When AMC had a chance to catch up with co-director Anthony Russo ahead of the movie's release, he confirmed this fact with his truthful reply.
"I think, unfortunately, it's going to be very important [to see it opening weekend] because I think it's going to be a movie that is going to leave a very strong impression on people. And I think people are going to be talking about it," Russo said. "So if, you know, if that element of it is important to you as a viewer, coming to it without having heard anything about it, I would get in to see it as fast as possible."
Challenge accepted. The problem becomes finding a seat in a nearby theatre for opening weekend, if you haven't yet grabbed your tickets. AVENGERS: ENDGAME is selling out at a record-setting pace, as Marvel Studios fans know this one is going to be very important to both the end of the current MCU storyline and the beginning of whatever is coming next.
Sure, there will be additional Marvel movies. Heck, SPIDER-MAN: FAR FROM HOME will be in theatres in July, carrying on the MCU tradition. But there's something special about AVENGERS: ENDGAME being the final chapter in this ongoing story; you can feel the anticipation in the fan base, and you understand why it's imperative to see the movie as quickly as possible, to protect the secrets for yourself and not spoil the film.
To that end, Joe and Anthony Russo actually took to social media to let fans know that if they are lucky enough to see AVENGERS: ENDGAME over opening weekend to not share what happens with anyone who hasn't seen it yet, because they want every Marvel fan to experience the story they way that they intended: on the big screen!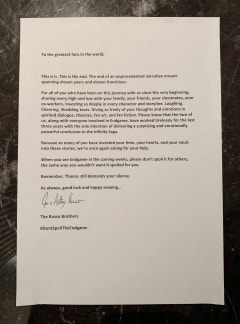 Now it's up to you guys. ENDGAME is screening, which means people are talking and you will want to be part of the conversation. Tickets are on sale as we speak. Do you have yours yet?