AMC THEATRES
We Make Movies Better
AMC Theatres® is the place we go for magic, where stories feel perfect and powerful. Academy Award® winner Nicole Kidman reveals why movies are better here than anywhere else.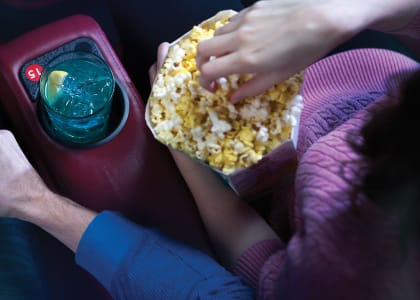 Reserved Seating
Select your seat when you buy your tickets online, on our mobile app or at the theatre.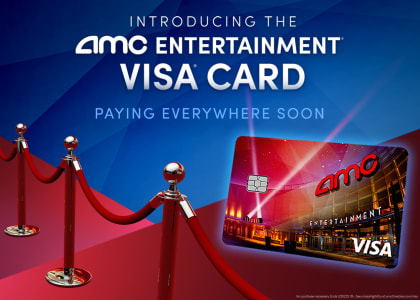 COMING EARLY 2023
Meet the New AMC Entertainment Visa Card
Get ready for the first credit card that earns in-theatre rewards everywhere you pay. Join the waitlist now and enter our red carpet sweepstakes.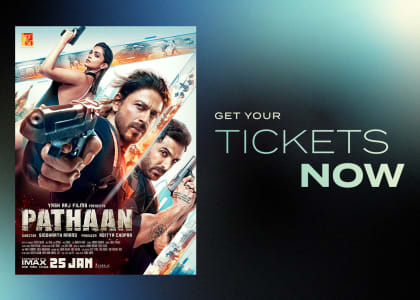 PATHAAN Plans for Revenge
Directed by Siddharth Anand, PATHAAN is a high-octane spy thriller starring Shah Rukh Khan, Deepika Padukone and John Abraham. See it on the big screen, now showing.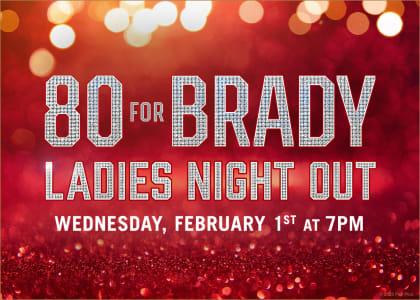 Get Ready For One Wild, Fun Ride.
Grab the gals and join us for Ladies Night Out with the comedy 80 FOR BRADY on 2/1 at 7pm.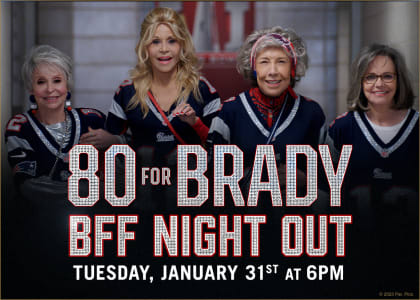 Best Friends Get Into The Best Kind Of Trouble.
Grab your besties and join us for a night out with the comedy 80 FOR BRADY on 1/31 at 6pm – three days before the film's release date!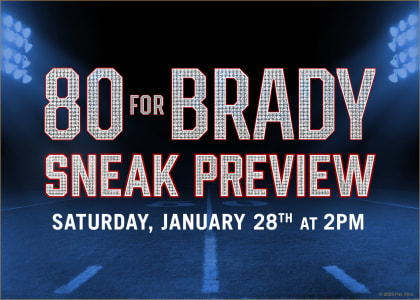 80 FOR BRADY + Sneak Preview = Touchdown!
Be the first to see 80 FOR BRADY on the big screen 1/28 at 2pm. Score your tickets today!
AMC STUBS® MEMBER EXCLUSIVE
Your Chance to Live Like an MVP
80 FOR BRADY is inspired by a true story of four friends who take an unforgettable trip. Get tickets to see it 1/28-2/12 and be entered for a chance to win a resort and spa stay with your BFFs.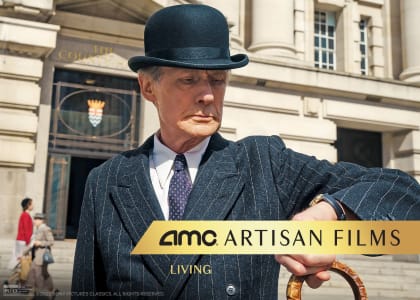 AMC ARTISAN FILMS
Learn to Start LIVING
Bill Nighy stars in this moving film about an old man who, reduced by years of routine, decides to make a change to turn his dull life into something wonderful. LIVING is now showing at AMC Theatres.
Play to Survive SWORD ART ONLINE
A story about the bond between a boy and a girl. Watch Asuna and Kirito progress further through the floating castle. Get tickets for SWORD ART ONLINE –PROGRESSIVE– SCHERZO OF DEEP NIGHT, opening 2/3.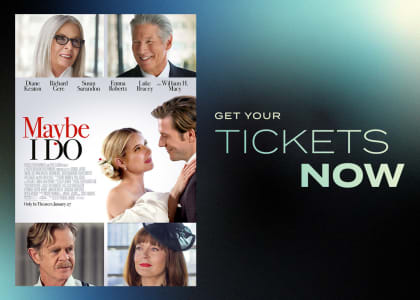 An Unforgettable Family Affair
In MAYBE I DO, one couple decides it's time for their two families to meet. Unbeknownst to them, their parents are already very familiar with one another. Watch the chaos unfold, now showing.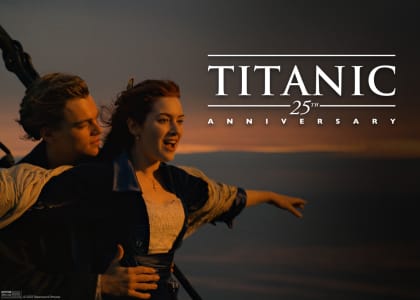 Celebrate 25 Years of TITANIC
Experience James Cameron's Academy Award®-winning TITANIC newly remastered in 3D at AMC Theatres. Get tickets to this epic love story set against the ship's maiden voyage, opening 2/10.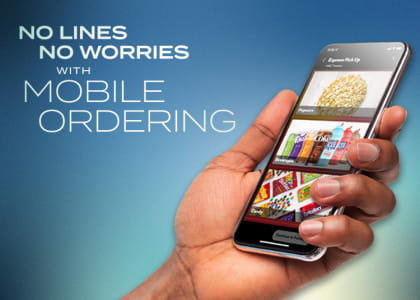 Order Snacks Ahead of Time!
Enjoy the convenience of mobile ordering with AMC Theatres. Simply place your order before your movie and it will be ready at your selected time when you arrive. Skip the line and enjoy the show!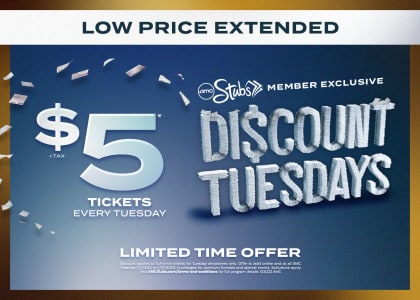 Discount Tuesdays Just Got Better
Right now, tickets to all the latest and greatest movies are just $5* all day, every Tuesday. Come in, catch a movie with us and enjoy this deal for a limited time only.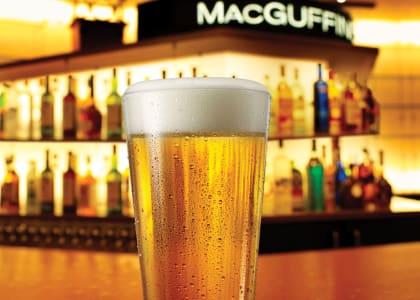 MacGuffins Bar
Enjoy a beer or wine with your movie! Select theatres also offer premium spirits and AMC-crafted cocktails. For guests 21+ only.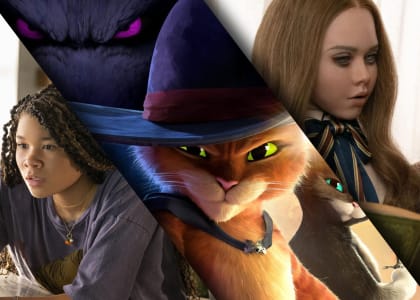 AMC SENSORY FRIENDLY FILMS
Sensory Friendly Films on the Big Screen
We turn the lights up and the sound down, so you can feel free to be you at these unique showings for people living with autism or other special needs. Learn more about the featured films playing this month at AMC Theatres.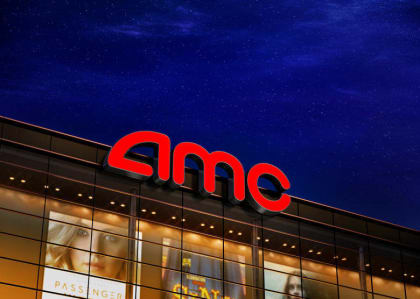 Open Caption (On-Screen Subtitles)
This theatre has select showtimes with Open Caption (On-Screen Subtitles) screenings.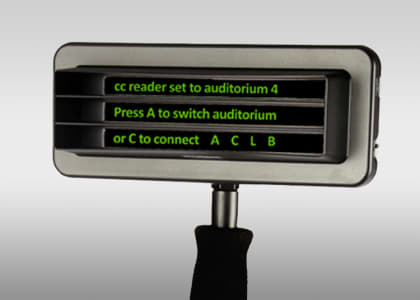 Closed Caption
Closed captioning devices available at this theatre. Contact the guest services desk at the theatre for more information.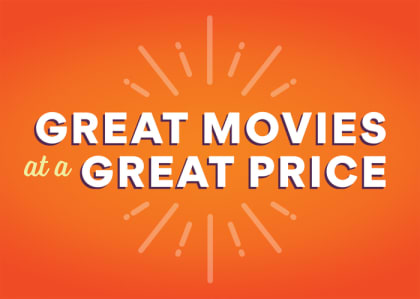 Save on Movies
With such great ticket prices, you can't afford to miss your favorite movies! Get tickets to your hometown AMC today and start saving.
At this theatre
Features

Open Caption (On-Screen Subtitles)

This theatre has select showtimes with Open Caption (On-Screen Subtitles) screenings.

Tickets Start at $4.49 Every Day

Enjoy all-day savings! Get tickets as low as $4.49 before 4pm and $6.49 starting at 4pm. Plus tax where applicable. Online ticket price reflects post-tax price where applicable. Additional charges apply for premium formats. Prices are subject to change.

Amenities and Accessibility

Mobile Ticketing

Skip the box office and go straight to the ticket drop with our mobile ticketing solution when buying tickets online.

Digital Projection

This theatre features digital projection in all auditoriums.

Wheelchair Access

This theatre is wheelchair-accessible in all auditoriums.

Other Policies

Age & Time of Day Policy for R-Rated Films

Under 17 requires accompanying parent or adult guardian (age 21 or older). Guests 25 years and under must show ID. We restrict children younger than 6 from attending R-Rated films after 6pm to improve the experience for everyone. To bring your children younger than 6 to R-Rated films, please visit us before 6pm.

No Outside Food and Beverage

Please refrain from bringing outside food and beverage items into the theatre.

Pricing Notice

AMC reserves the right to exercise special pricing options for unique in-theatre experiences.

Refund Policy

No refunds after printed showtime.