Spider-Man: Far From Home
Spider-Man: Far From Home
More Trailers and Videos for Spider-Man: Far From Home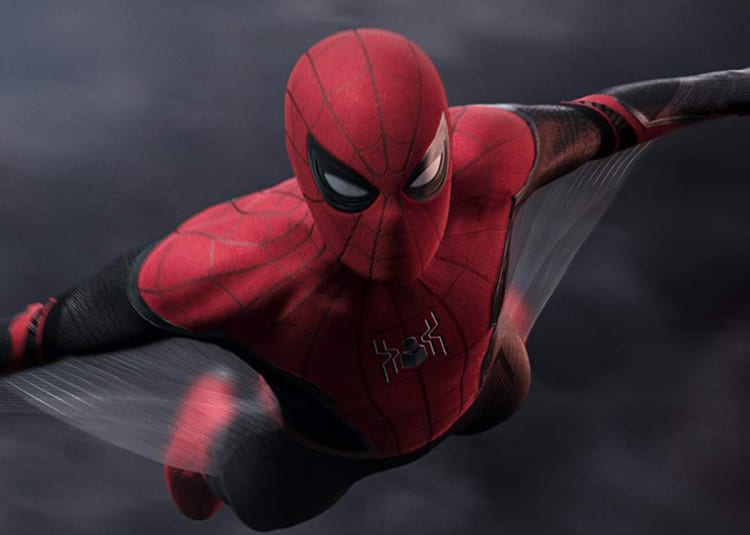 Experience Films to the fullest in IMAX
Only in IMAX can you see up to 26% more picture of Spider-Man: Far From Home. Get IMAX tickets now to see it before it's gone.
Cast & Crew
Tom Holland

Peter Parker/Spider-Man

Thomas Stanley Holland was born in Kingston-upon-Thames, Surrey, to Nicola Elizabeth (Frost), a photographer, and Dominic Holland (Dominic Anthony Holland), who is a comedian and author. His paternal grandparents were from the Isle of Man and Ireland, respectively. He lives with his parents and three younger brothers - Paddy and twins Sam and Harry. Tom attended Donhead Prep School. Then, after a successful eleven plus exam, he became a pupil at Wimbledon College. Having successfully completed his GCSEs, in September 2012 Tom started a two-year course in the BRIT School for Performing Arts & Technology notable for its numerous famous alumni. Holland began dancing at a hip hop class at Nifty Feet Dance School in Wimbledon, London. His potential was spotted by choreographer Lynne Page (who was an Associate to Peter Darling, choreographer of Billy Elliot and Billy Elliot the Musical) when he performed with his dance school as part of the Richmond Dance Festival 2006. After eight auditions and subsequent two years of training, on 28 June 2008 Tom made his West End debut in Billy Elliot the Musical as Michael, Billy's best friend. He gave his first performance in the title role of Billy on 8 September 2008 getting rave reviews praising his versatile acting and dancing skills. In September 2008 Tom (together with co-star Tanner Pflueger) appeared on the news programme on channel FIVE and gave his first TV interview. In 2009 Tom was featured on ITV1 show "The Feel Good Factor". At the launch show on 31 January he and two other Billy Elliots, Tanner Pflueger and Layton Williams, performed a specially choreographered version of Angry Dance from Billy Elliot the Musical, after which Tom was interviewed by host Myleene Klass. Then he became involved into training five ordinary British schoolboys learning to get fit and preparing their dance routine (fronted by Tom) for the final "The Feel Good Factor" show on 28 March 2009. On 11 March 2010, Tom, along with fellow Billy Elliots Dean-Charles Chapman and Fox Jackson-Keen appeared on The Alan Titchmarsh Show on ITV1. On 8 March 2010, to mark the fifth anniversary of Billy Elliot the Musical, four current Billy Elliots, including Tom Holland, were invited to 10 Downing Street to meet the Prime Minister Gordon Brown. It was Tom Holland who was chosen to be a lead at the special fifth anniversary show on 31 March 2010. Elton John, Billy Elliot the Musical composer, who was at the audience, called Tom's performance "astonishing" and said that he was "blown away" by it. Holland had been appearing on a regular basis as Billy in Billy Elliot the Musical rotating with three other performers till 29 May 2010 when he finished his run in the musical. In two months after leaving Billy Elliot the Musical, Holland successfully auditioned for a starring role in the film The Impossible (directed by Juan Antonio Bayona) alongside Naomi Watts and Ewan McGregor. The Impossible was based on a true story that took place during the 2004 Indian Ocean earthquake. The film premiered at the Toronto International Film Festival on September 9, 2012, and was released in Europe in October 2012, and in North America in December 2012. Tom has received universal praise for his performance, in particular: "What a debut, too, from Tom Holland as the eldest of their three lads" (The Telegraph); "Tom Holland, making one of the finest feature debuts in years" (HeyUGuys); "the excellent Tom Holland" (The Guardian); "The child performers are uncanny and there is an especially terrific performance from Tom Holland as the resourceful, levelheaded Lucas terrified but tenacious in the face of an unspeakable ordeal" (Screen Daily); "Young Holland in particular is astonishingly good as the terrified but courageous Lucas." (The Hollywood Reporter); "However, the real acting standout in The Impossible is the performance of Tom Holland as the eldest son Lucas. His portrayal is genuine, and at no moment does it feel melodramatic and forced. The majority of his scenes are separate from the lead actors and for the most part it feels like The Impossible is Holland's film" (Entertainment Maven); "Mr. Holland, meanwhile, matures before our eyes, navigating the passage from adolescent self-absorption to profound and terrible responsibility. He is a terrific young actor" (New York Times). Tom has given a number of interviews about his role in The Impossible. In particular, he talked on video to Vanity Fair Senior West Coast editor Krista Smith and with IAMROGUE's Managing Editor Jami Philbrick. He has also given interviews to The Hollywood Reporter, to the MovieWeb, to Today Show on NBC and to other outlets. Tom's director and co-stars have also talked about him. Juan Antonio Bayona: "He had this extraordinary ability to get into the emotion and portray it in a very, very easy way. The best I'd ever seen in a kid." Ewan McGregor: "It was wonderful watching Tom who had never worked in front of a camera before, to see him really get it and grow as a film actor as he went along. He's really talented and polite to everyone. It's very easy for children to lose perspective but he's absolutely on the right road and a brilliant actor." Naomi Watts: "He has an incredible emotional instrument and an unbelievable sense of himself... Tom Holland and I had a couple of moments where we came together and I could just tell how wonderful he was and what a beautiful instrument he had. It was just easy to work with him, that was one of the greatest highlights for me: discovering a friendship with Tom off-screen and this beautiful relationship between mother and son on-screen. The intimacy that develops through the course of the film between Lucas and Maria, I just loved that relationship. I mean, Tom is a beyond gifted actor. He's just a raw, open talent that is just so easy to work with. And Tom, he's inspiring, he kind of lifts everyone's game around him because he can do nothing but tell the truth. He was great." In his turn, Tom Holland has returned favours to Naomi Watts when he was asked to present Desert Palm Achievement Award to her at Palm Springs International Film Festival. According to HitFix: "One recurring theme of the night was how the introductions were often better than actual winner's speeches... The best intro, however, had to go to 16-year-old Tom Holland who intro'd his "Impossible" co-star Watts. Holland admitted of all of Watts' great performances his dad had only let him see "King Kong" and while they spent six weeks shooting in a water tank he didn't know it was "difficult" because he actually "loved it"... Most important, this was Holland's first film role and he sweetly noted, "From the moment I met you, you took my hand and you never let go." Cue the "awwww" from the audience." The presentation is available on video. In 2011, Holland was cast in British version of the animation film Arrietty, produced by Japan's cult Studio Ghibli. He has provided voice over for the principal character Sho. In 2012 Tom Holland played the starring role of Isaac in the film "How I lived Now", (directed by Kevin Macdonald) alongside Saoirse Ronan. The film was released in 2013. On 17 October 2012, Holland became a recipient of Hollywood Spotlight Award for his role in The Impossible. "We are very excited that we will be able to recognize acting talents that are on the road to discovery and stardom," said Carlos de Abreu, founder and executive director of the Hollywood Film Awards in a statement. On 6 December 2012 it was announced that Holland became a winner of the National Board of Review award in the "Breakthrough Actor" category. In the end of December 2012, Holland was voted a winner for the year's Best Youth Performance in Nevada Critics Awards. In December 2012, Holland received a number of nominations for his role in The Impossible: for the 18th annual Critics' Choice Movie Awards, in the "Best Young Acror/Acress" category; for Chicago Film Critics Association Awards 2012 in the "Most Promising Performer" category; for the 27th Goya Awards in the "Best New Actor" category; for the Washington D.C. Area Film Critics Association Awards 2012 in the "Best Youth Performance" category; for the London Film Critics Circle Awards 2012 in the "Young British Performer of the Year" category. Kristopher Tapley, Editor-at-Large of HitFix, reported on 27 August 2012 that Summit Entertainment, the company responsible for distribution of The Impossible in USA, would be campaigning Holland rather than McGregor as the lead, and strongly argued that Tom Holland deserved to be nominated for an Academy Award in the Best Actor category. The fact of long-listing for an Academy Award was confirmed in the article in the Hollywood Reporter: "And though McGregor stars as his father in the film, Holland has been submitted as the lead actor for awards consideration. Regardless if he receives any nominations, his performance as the strong-willed and determined eldest son is garnering critical acclaim." As one of the most promising young actors, Holland was featured in Screen International's "UK Stars of Tomorrow - 2012" and in Variety's "Youth Impact Report 2012". Holland has been signed up by William Morris Endeavor (WME) global talent agency and is represented by Curtis Brown literary and talent agency. In 2015, Tom was cast as Peter Parker/Spider-Man in Sony and Marvel's films. He has played the role in Captain America: Civil War (2016), Spider-Man: Homecoming (2017), and Avengers: Infinity War (2018).

More

Zendaya

MJ

Zendaya (which means "to give thanks" in the language of Shona) is an American actress and singer born in Oakland, California. She began her career appearing as a child model working for Macy's, Mervyns and Old Navy. She was a backup dancer before gaining prominence for her role as Rocky Blue on the Disney Channel sitcom Shake It Up (2010) which also includes Bella Thorne, Kenton Duty and Roshon Fegan. Zendaya was a contestant on the sixteenth season of the competition series Dancing with the Stars. She went on to produce and star as K.C. Cooper in the Disney Channel sitcom K.C. Undercover (2015) She made her film breakthrough in 2017, starring as Michelle "MJ" Jones in the Marvel Cinematic Universe superhero film Spider-Man: Homecoming (2017) and as Anne Wheeler in the musical drama film The Greatest Showman (2017) alongside actors such as Tom Holland, Hugh Jackman and Zac Efron. Besides acting, singing and dancing she is an ambassador for Convoy of Hope. She has written a book, launched her own clothing line (Daya by Zendaya) and proved herself to be a great role model for young girls all around the world.

More

LAURA HARRIER

Liz

Laura Ruth Harrier (born March 28, 1990) is an American actress and model. Harrier was first recognized for her portrayal of Destiny Evans in the short-lived reboot of the American soap opera One Life to Live in 2013. In 2017, she made her major film debut portraying Liz Allan in Spider-Man: Homecoming. Harrier was born March 28, 1990 in Chicago, Illinois, and was raised in Evanston, Illinois. She is biracial. She attended Evanston Township High School from 2004-2008. Her father works in insurance and her mother is a speech pathologist. She has one younger brother. Harrier left home for New York at age 18 to attend the New York University Gallatin School of Individualized Study. Upon arrival, Harrier fell into modeling and deferred enrollment to the university. Modeling was not a job that Harrier intended to do for long. Eventually, she decided that she wanted to pursue acting and attended William Esper Studio acting school in New York City. Harrier appeared in the reboot of American soap opera One Life to Live (2013) as Destiny Evans. She has also been in projects such as The Last Five Years (2014) and 4th Man Out (2016). Harrier had her major film debut playing former love interest Liz Allan in Spider-Man: Homecoming (2017). In June 2017, it was announced that Harrier would be portraying Millie Montag in HBO's film adaptation of acclaimed novel Fahrenheit 451, opposite Michael B. Jordan; however, she was later cut from the film. Harrier co-starred as a civil rights activist in the thriller film BlacKkKlansman (2018), opposite John David Washington, Adam Driver, and Topher Grace. Harrier will next star in Balance, Not Symmetry, opposite Bria Vinaite and Scott Miller, directed by Jamie Adams. Harrier has modelled for campaigns with companies such as Garnier, Urban Outfitters, American Eagle and L'Oréal, and has turned up on the pages of Vogue, Cosmopolitan, Elle and Glamour. In 2016, Harrier starred in "The Realest Real", a short film for luxury French fashion brand Kenzo directed by Carrie Brownstein. Harrier is part of Calvin Klein and Louis Vuitton campaigns and is an ambassador for luxury Italian jewelry brand Bvlgari.

More

Jake Gyllenhaal

Quentin Beck/Mysterio

Jacob Benjamin Gyllenhaal was born in Los Angeles, California, to producer/screenwriter Naomi Foner (née Achs) and director Stephen Gyllenhaal. He is the brother of actress Maggie Gyllenhaal, who played his sister in Donnie Darko (2001). His godmother is actress Jamie Lee Curtis. His mother is from a Jewish family, and his father's ancestry includes Swedish, English and Swiss-German. At the age of eleven, Gyllenhaal made his movie debut in the comedy-drama City Slickers (1991), playing Billy Crystal's character's son. He made an impact in various films in the late 1990s and early 2000s, in films such as the period drama October Sky (1999), his breakthrough performance, and as the title role in the psychological thriller Donnie Darko (2001), for which he received an Independent Spirit Award nomination for Best Actor, playing a psychologically troubled teenager. He followed this with roles encompassing many different genres, including the comedy film, the Disney romantic comedy Bubble Boy (2001); opposite Jennifer Aniston in another Sundance favorite, The Good Girl (2002), as a young man grieving the death of his fiancée in Moonlight Mile (2002), and in the science fiction blockbuster The Day After Tomorrow (2004), portraying a student caught in a cataclysmic climate event, opposite Dennis Quaid. Making his theater debut, Gyllenhaal appeared on the London stage with a starring role in Kenneth Lonergan's revival of "This Is Our Youth". The play was widely-received and played for eight weeks in London's West End. Gyllenhaal followed his successful theater en devour with a role in Jarhead (2005), playing Anthony "Swoff" Swofford, an aggressive and masculine but equally vulnerable and sensitive Marine during the Gulf War, and Proof (2005), as Gwyneth Paltrow's love interest. However, it was his follow-up performance that won critical acclaim in Brokeback Mountain (2005), in which he co-starred with Australian actor Heath Ledger, as sheep herders who fall in love in the 1960s and depicts their relationship over the 1960s, 1970s and early 1980s. For his role as Jack Twist, Gyllenhaal received critical acclaim and won the BAFTA Award for Best Actor in a Supporting Role and was nominated for the Screen Actors Guild Award for Outstanding Performance by a Male Actor in a Supporting Role, the Satellite Award for Best Supporting Actor - Motion Picture, and the Academy Award for Best Supporting Actor. Since then, he has acted in a wide range of movies, ranging from the critically-acclaimed thriller, Zodiac (2007), the drama Brothers (2009), playing opposite Tobey Maguire as the title siblings, in the action adventure film, Prince of Persia: The Sands of Time (2010), sporting a bulked-up physique, and the box office hit, Love & Other Drugs (2010), in which he teamed up with Anne Hathaway, once again, and for which he was nominated for a Golden Globe Award for Best Actor - Motion Picture Musical or Comedy. In the 2010s, Gyllenhaal starred in several major films for which he received significant critical acclaim: science fiction thriller Source Code (2011), police drama End of Watch (2012), mystery Prisoners (2013), dark media satire Nightcrawler (2014), the boxing drama Southpaw (2015), and the dramedy Demolition (2015). For Nightcrawler, he was nominated for the Golden Globe Award for Best Actor - Motion Picture Drama, the Screen Actors Guild Award for Outstanding Performance by a Male Actor in a Leading Role, and the BAFTA Award for Best Actor in a Leading Role. Gyllenhaal is the godfather of Matilda Ledger (aka Matilda Rose Ledger), daughter of the late actor Heath Ledger and Michelle Williams. Gyllenhaal's most significant personal relationships have been with actresses Kirsten Dunst and Reese Witherspoon. He is friends with Maroon 5 frontman Adam Levine, having known him since kindergarten. He is good friends with his sister's husband and Jarhead (2005) co-star, actor Peter Sarsgaard.

More

Cobie Smulders

Maria Hill

Cobie Smulders was born on April 3, 1982, in Vancouver, British Columbia, to a Dutch father and an English mother. As a girl, Cobie had set her sights on becoming a doctor or a marine biologist. In fact, it wasn't until high school that Cobie started to explore acting after appearing in several school productions. As a teenager, Cobie caught the eye of a modeling agency, which led to several years of world travel to places such as France, Japan, Italy, Greece, and Germany. Yet even as Cobie's modeling career was on the rise, she still managed to attend school, graduating from high school in 2000 with honors. Once out of high school, Cobie continued modeling internationally until the opportunity arose to audition for film and television. It was not long before Cobie's natural ability as an actress impressed casting directors, landing her guest spots on television series such as Special Unit 2 (2001) and Jeremiah (2002). In addition, Cobie also appeared in the short Candy from Strangers (2001) directed by fellow Canadian rising star Eric Johnson. Cobie got her big break just months later when she landed the role of Juliet Droil in the ABC program Veritas: The Quest (2003). The series marked her first series role for television.

More
Cast & Crew photos provided by TMDb.