When was the last time you took a stroll through the afterlife? If it's been a while — say, since December 2017, when ALONG WITH THE GODS: THE TWO WORLDS was released — you'll have another chance August 1. The fantasy epic that smashed box office records in Korea reaches its thrilling climax in sequel ALONG WITH THE GODS: THE LAST 49 DAYS.
As the deceased soul Su-hong and his three afterlife guardians face the remaining trials to obtain their reincarnation, the guardians come face to face with the buried truth of their tragic time on earth a thousand years ago, culminating in a final battle with a rogue god.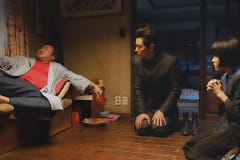 Sounds pretty heavy, but the film manages to mix elements of family, humor and living your best life with amazing visual effects to create a story that is both epic and touching at the same time. Plus, fans will get to see the exciting conclusion to the mythological tale, based on the Korean webtoon by Joo Ho-min.
Join us for the adventure August 1 at select AMC theatres. Get your tickets today.