Over the last decade, Olivia Wilde has established herself as a star to watch. She has found success in both film and TV, including the fantasy adventure TRON: LEGACY and the hit series "The O.C." Now, she steps behind the lens for her directorial debut BOOKSMART, a buddy comedy with female friendship at the forefront.
During our on-set visit with the new director and talented young cast, the word "authentic" was used to describe the story (and "cool" to describe Wilde).
"The script, for me, was the movie that I'd been wanting to watch," Wilde said. "It was a story about female friendship that I connected with very personally, and it was important to me to tell a story about seeing people and feeling seen and getting rid of judgment." Wilde and crew reveal more in this behind-the-scenes clip.
BOOKSMART stars Beanie Feldstein and Kaitlyn Dever as two overachieving high school seniors who put studying over partying. Realizing they should have worked less and played more, on the eve of their graduation, the teens try to cram four years of fun into one epic night.
"[The script] was just so refreshing," Dever said. "It was unlike anything I'd ever read before — refreshing for young women, and the fact that Olivia was directing it, just the whole package was so exciting to me."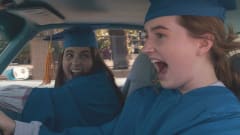 Each of the cast members we spoke to gushed about working with Wilde. "We all just revel in her confidence," Feldstein said. Part of Wilde's seemingly natural directing abilities may be credited to her experience in front of the camera. She understands what actors need to perform their best and feel comfortable to take risks.
"As a director, I've tried to create a set that's just a really fertile environment to encourage the most creativity and to allow people to feel safe and relaxed enough to come up with their best ideas — and that's the actors and the crew," Wilde said.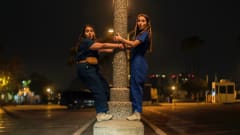 BOOKSMART boosts a mostly female-led cast and crew, including co-stars Billie Lourd and Molly Gordon and all four script writers: Susanna Fogel, Emily Halpern, Sarah Haskins and Katie Silberman.
"I think that's why the set is so magical and so positive," Lourd said. "Olivia just created this amazing environment where we're all just really comfortable with each other and really supportive. And I think that's because a lady is at the helm — an awesome lady."
But Wilde stresses that BOOKSMART is not a "specifically female" story. The raunchy comedy is relatable to people of all ages. You may see your high school self in one of the characters. Find out when the film opens at AMC on May 24.