There are a handful of characters audiences think of when the TOY STORY series comes to mind. Woody (Tom Hanks) and Buzz Lightyear (Tim Allen) have to be first. They're probably followed by Jessie (Joan Cusack), Rex (Wallace Shawn) and Hamm (John Ratzenberger).
It's been a long time since audiences have associated Bo Peep (Annie Potts) with the franchise, but that doesn't mean the animators behind the scenes at Pixar haven't been thinking about her. In fact, during a recent press event at Pixar Animation Studios in Northern California, we learned from story artist Valerie LaPointe that an early scene from the original TOY STORY involving Bo Peep triggered a major plot point in this summer's anticipated TOY STORY 4.
"I always liked the scene where Woody's freaking out, and she tells him to just look under his boot," LaPointe said. "It's when he's fearing that Andy doesn't love him anymore. It's this voice of reason that she has. And in that moment, you get this sense that they have this intimacy that he doesn't have with Buzz.
"You know, she was in the room before Buzz entered, so she, in a way, was potentially his best friend in a way that Buzz wasn't," LaPointe continued. "So, I was just very curious when I came on to the project how we could explore that and stay true to that side of her personality."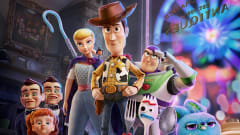 That's a character beat we never considered up until this point. Before Buzz Lightyear arrived in Andy's bedroom, Bo Peep was the one who was there for Woody. She calmed him down, likely worked with him on countless adventures, and was — as LaPointe said — his voice of reason.
How might she contribute to the story now that Woody is moving on from Andy and starting a new path? AMC saw TOY STORY 4 footage at CinemaCon in Las Vegas, which confirmed that TOY STORY 4 will focus more on Woody and his new kid, Bonnie. We also learned how Bo Beep factors in, but it might be viewed as a spoiler, so we will leave it for you to discover.
And you can, once TOY STORY 4 opens in theatres on June 21. It's the first TOY STORY movie to play at AMC since TOY STORY 3 in 2010, so be sure to find out how Pixar is continuing this series for a new generation of fans.