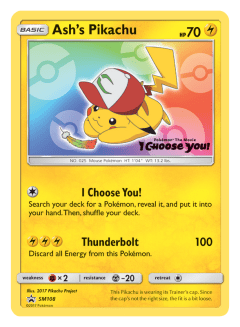 Ash Ketchum from Pallet Town is 10 years old today — which means he is now old enough to become a Pokémon Trainer. After receiving his first Pokémon from Professor Oak, Ash dreams big about the adventures they'll have together, but "there's something wrong with this one …"
Fathom Events and the Pokémon Company International present POKÉMON THE MOVIE: I CHOOSE YOU! to U.S. audiences for the first time for a two-day cinema event. AMC moviegoers can catch the matinee showing Sunday, Nov. 5, or evening showing Monday, Nov. 6. Attendees will receive a never-before-seen Pokémon Trading Card Game card, featuring Pikachu wearing its Trainer's hat, while supplies last.
The newly animated film has already won over Pokémon fans in Japan, where the franchise originated. (It opened at the top of the charts its first weekend.) However, you don't need to be a longtime devotee to enjoy this celebration. There are new elements of the Pokémon saga for everyone.
POKÉMON THE MOVIE: I CHOOSE YOU! retells and reimagines the origins of Ash and Pikachu's first meeting, the forging of their friendship and their first adventure together in the world of Pokémon as they search for the Legendary Pokémon, Ho-Oh.
Over the course of their journey, Ash and Pikachu encounter familiar faces, as well as new characters, like the Trainers Verity and Sorrel. They even cross paths with the mysterious new Mythical Pokémon, Marshadow.
So, grab your Poké Ball and your fellow Trainers, and get your tickets to POKÉMON THE MOVIE: I CHOOSE YOU! at AMC — Nov. 5 and Nov. 6 only. Catching 'em all starts with one!