The Pokémon brand is strong worldwide, to the point where you might never have interacted with the characters of the universe, but you likely know the name Pikachu and could identify the yellow, fuzzy hero in a lineup of fantasy creatures. The Pokémon cards have helped raise awareness, but so too has the recent Pokémon GO mobile game and other video games that exist in the brand space.
This summer's POKÉMON DETECTIVE PIKACHU will build off a successful Pokémon video game to tell its own unique story — a mystery set in the fictional Ryme City. Pikachu will be voiced by Ryan Reynolds, and he will be teaming up with a human teenager (Justice Smith) to solve a series of crimes that personally impact both characters. A full trailer for POKÉMON DETECTIVE PIKACHU recently dropped, and it had four major reveals that caught even die-hard fans by surprise. Watch the new trailer below, and then let's discuss what we learned.
Pikachu Has a Connection to Tim's Dad
The action in DETECTIVE PIKACHU kicks it up a notch when the amnesic Pikachu (Ryan Reynolds) connects with Tim (Justice Smith), a kid who can't find his father. As it turns out, the Pokémon has a direct connection to Tim's dad, as there's a label we see in the trailer that says "If Lost, Return To Harry Goodman." That means Harry's disappearance links Pikachu to Tim and helps explain why the two end up teaming up to solve the movie's central mystery.
Psyduck Is Also Solving a Mystery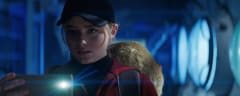 There's a lot happening in POKÉMON DETECTIVE PIKACHU, and we assume the threads will all weave into a cohesive story. One subplot looks to involve Psyduck, a character played by Kathryn Newton who also is named Lucy in the movie. We see her investigating something in the trailer, but there's no direct link to Tim and Pikachu yet, so could there be multiple criminal cases plaguing Ryme City in this debut movie?  
Pikachu Will Have Rare Powers
There are rules in the game of "Detective Pikachu." One rule is that Pikachu can't use any of his powers. He has above-average intelligence, but his souped-up electricity rays that are on display in other "Pokémon" shows and comics never made the leap to the "Detective Pikachu" video game. But here they are, being utilized in the trailer, so what other surprises might this movie have for Pokémon fans?
Mewtwo Appears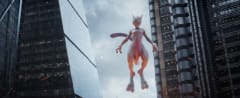 Well, that's one major surprise. The extremely popular Pokémon named Mewtwo makes an entrance at the tail end of the new POKÉMON DETECTIVE PIKACHU trailer, and it's a moment that's sure to get pulses racing. Mewtwo has a complicated background and could be portrayed as evil (though he's usually being manipulated by bad folks). It looks like he's battling Pikachu in this trailer, but let's wait and see what his true motives are.
POKÉMON DETECTIVE PIKACHU looks like it's going to bring bright and vibrant fun and action to the big screen. It opens in theatres on May 10, so make sure you bring the whole family to check it out!