Dora the Explorer is taking her most ambitious journey yet as she leaps off the small screen and into movie theatres with DORA AND THE LOST CITY OF GOLD. The star of the hit children's series is getting her very own feature-length adventure in the live-action film from the director of THE MUPPETS.
With an all-star supporting cast and the help of her best friend, Boots, Dora is ready to take over a theatre near you. Here's everything we know about DORA AND THE LOST CITY OF GOLD.
Dora and the Lost City of Gold Hits Theatres This Summer
Dora's live-action adventure was originally scheduled to be released on August 2, 2019. Thankfully, fans will get to see DORA AND THE LOST CITY OF GOLD a few days earlier, when it hits theatres on July 31.
Is There a Dora and the Lost City of Gold Trailer?
You bet! The trailer for DORA AND THE LOST CITY OF GOLD gives fans an excellent idea of how this beloved animated series was transformed into a live-action (and action-packed) film.
Including silly physical humor (like Dora's backpack getting stuck in the bus door) and keeping Boots around (as a computer-animated monkey) make the movie feel like it exists in the same world. The trailer also introduces Dora and her adventurous life to new viewers who may not be familiar with her animated series.
Why the New Title?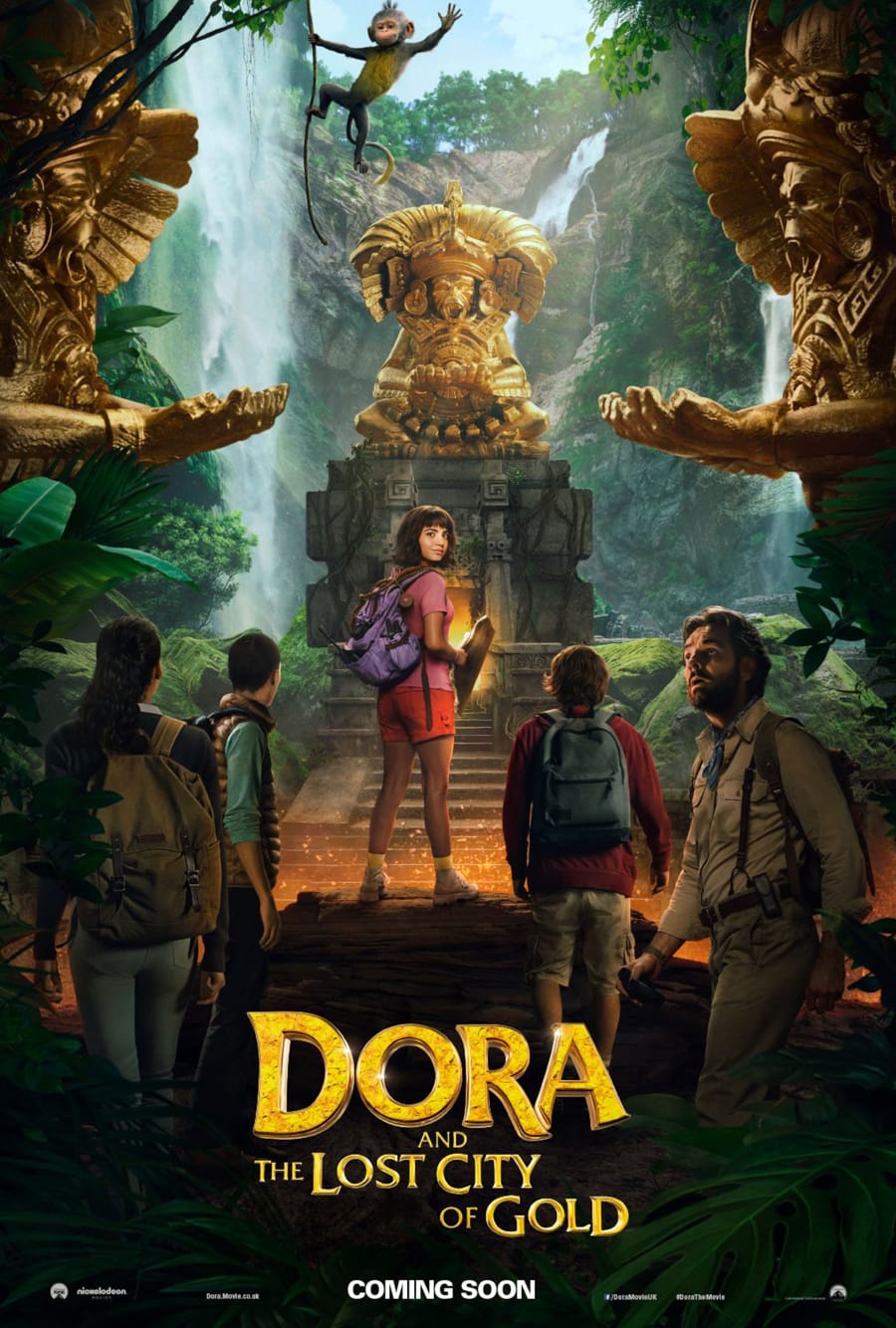 There's no easier way to show that the new movie is very much related to the fan-favorite show audiences grew up on but also say "this is something new!" than the title. While "Dora the Explorer" will always be connected to the TV series, DORA AND THE LOST CITY OF GOLD is an identity that is unique to this film. Plus, it sounds pretty cool.
Dora's Big Screen Adventure
Unlike the animated Dora, this one is a little older. (Which helps the movie reach a wider audience, which also connects to that whole title thing we just talked about.)
Dora is heading off to high school, which is a pretty big journey on its own. She's about to encounter her most challenging adventure yet when she — along with a few new classmates and her cousin, Diego — is kidnapped and taken to the jungle. There, she'll have to lead her pals on a rescue mission to save her parents and locate the mysterious Lost City of Gold.
The Cast of Dora and the Lost City of Gold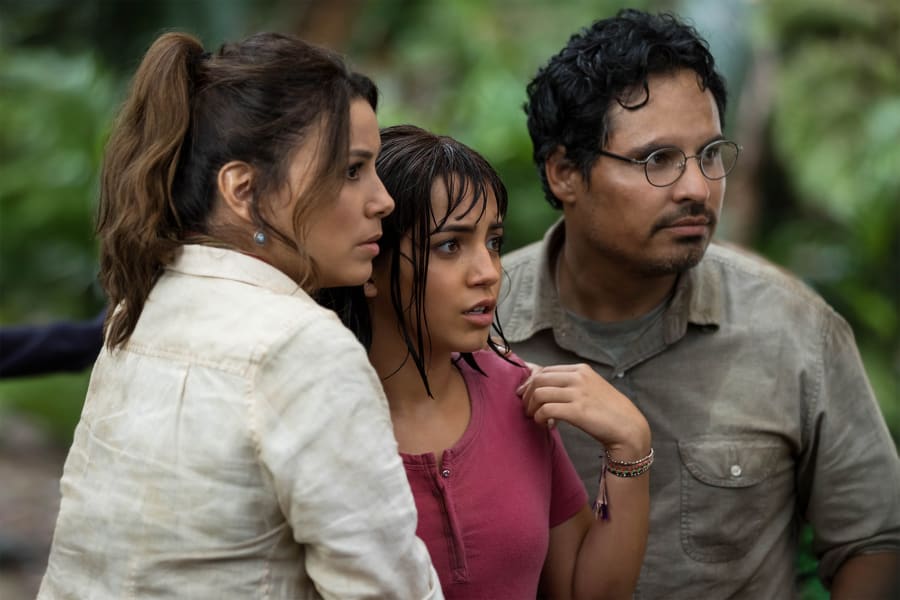 Isabela Moner plays Dora, the free-spirited teen who spent her life exploring the jungle with her parents, giving her a unique set of skills — which don't exactly help her fit in with the kids at her new high school. Moner is a rising star best known for her roles in movies like INSTANT FAMILY and TRANSFORMERS: THE LAST KNIGHT.
Michael Peña (ANT-MAN) and Eva Longoria ("Desperate Housewives") play Dora's father and mother — a pair of skilled explorers who taught their daughter everything they know.
Jeffrey Wahlberg is Diego, Dora's older cousin who tries to help her adjust to high school life. As you can probably guess by his last name, the young actor comes from a family of actors. His uncles are Mark and Donnie Wahlberg.
Madeleine Madden plays Sammy, a high schooler who seems pretty judgmental about Dora and her explorer background — until she winds up trapped in the jungle with her new classmate. Madden has mostly starred in TV shows like Amazon's "Picnic at Hanging Rock" and Netflix's "Tidelands."
Nicholas Coombe is Randy, another classmate of Dora's who finds himself lost in the jungle with the rest of the gang. Coombe has appeared on shows like "The Magicians" and "Imaginary Mary" and lends his voice to the animated series "Spy Kids: Mission Critical."
Danny Trejo lends his voice to Boots the monkey, Dora's best friend and sidekick. Trejo is a veteran actor famous for starring in films like DESPERADO and MACHETE. Let's say that again: Danny Trejo plays a monkey. Maybe we should have led with that.
The Supporting Cast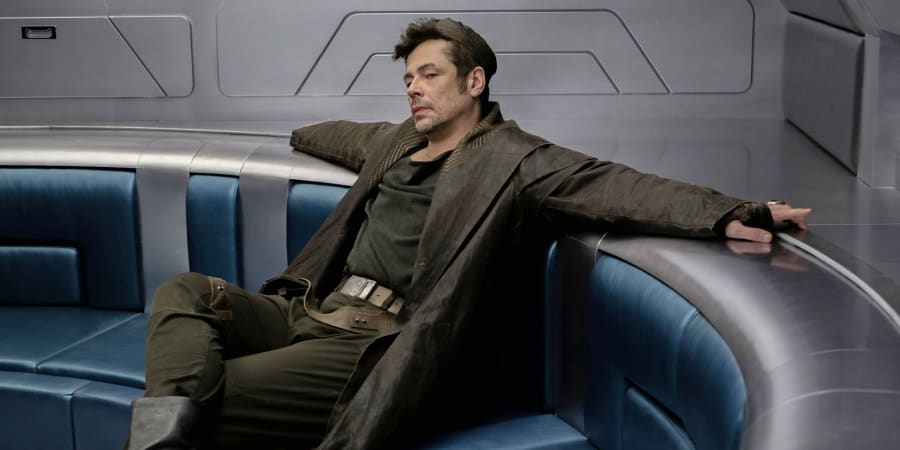 That cast isn't all — DORA AND THE LOST CITY OF GOLD features an all-star supporting cast, with many familiar faces (and a couple of voices).
Benicio Del Toro (above, in STAR WARS: THE LAST JEDI) is the voice of Swiper the fox, the main antagonist from the "Dora the Explorer" animated series. Swiper is always stealing important items from Dora that would help her on her adventures.
Eugenio Derbez plays Alejandro Gutierrez, who helps Dora and her friends once they arrive in the jungle. A megastar in his native Mexico, Derbez has crossed over into American stardom in recent years with films like INSTRUCTIONS NOT INCLUDED and the recent remake of OVERBOARD, co-starring Anna Faris.
The film also features another STAR WARS veteran, Temuera Morrison, recently seen in AQUAMAN, along with Adriana Barraza ("The Strain") and Q'orianka Kilcher (THE NEW WORLD) as Kawillaka, the ancient princess of the Lost City of Gold.
DORA AND THE LOST CITY OF GOLD opens on July 31.