Olivia Wilde's directorial debut, BOOKSMART, is the buddy comedy we've been waiting for. The first-time filmmaker was inspired by classics like FAST TIMES AT RIDGEMONT HIGH; producer Jessica Elbaum said the movie has a "Freaks and Geeks" vibe; and multiple cast members referred to BOOKSMART as a "ladies SUPERBAD."
But the R-rated comedy has its own unique pull and power. It focuses on female friendships through the lens of smart comedy, which is especially exciting and important for young women to see on the big screen.
"The script, for me, was the movie that I'd been wanting to watch," Wilde said during our on-set visit. "It was a story about female friendship that I connected with very personally, and it was important to me to tell a story about seeing people and feeling seen and getting rid of judgment." Hear more in the interview below.
BOOKSMART stars Beanie Feldstein and Kaitlyn Dever as two overachieving high school seniors who have put studying over partying. But when they realize their peers did both, and got into the same prestigious colleges, they throw caution to the wind and cram four years of fun into one epic night on the eve of their graduation.
The stars' strong bond is apparent — and authentic. "We actually got close off-set because we live together," Feldstein said. "So, we've been living together throughout the whole shoot, which has been so unmeasurably important and special."
Authenticity is the cornerstone of BOOKSMART. It's a rollercoaster of dramatic highs and lows, like high school for most teens. Friendships are the most intimate relationships at this age, Wilde said, and they typically involve a necessary breakup in order to grow and evolve.
BOOKSMART tells this universal story through Feldstein's fierce Molly and Dever's demure Amy, two opposites who balance each other out. Producer David Distenfeld said, "No one is defined by one single thing. Everyone's complicated. The world is complicated. The idea is that if you can find that one person, that one friend, to get through it, then you really have nothing to worry about."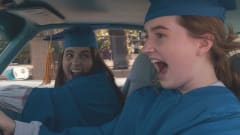 That's exactly what our leads find in each other — and they do get through the growing pains of high school, and they do go on to forge their own futures and create their own identities. Distenfeld compared BOOKSMART to iconic John Hughes movies: "It's a whole collection of characters; all feel really well-defined; it's really funny; but you feel something at the end of it."
The characters are almost painfully real and relatable — from Billie Lourd's wild rich girl Gigi, to Mason Gooding's popular nice guy Nick. This also speaks to the talent of the young cast members, whose careers are sure to skyrocket from here.
See them rise up in BOOKSMART when the movie opens May 24 at AMC.