One of the constants in animation is, well, constancy. Mickey Mouse, Bugs Bunny and Bart Simpson don't grow up. When characters become icons, drastic change is not what audiences are looking for.
The HOW TO TRAIN YOUR DRAGON films are different. Over the past 10 years, the series has been all about the main characters changing and maturing. The heroic Hiccup has transformed from gangly young man to strong and seasoned leader — and we've become fully invested in his life as a result. 
HOW TO TRAIN YOUR DRAGON: THE HIDDEN WORLD, opening on February 22, concludes the story by pushing Hiccup and his dragon, Toothless, to grow up even further. It's a bold move that sets this series apart from other animated sagas.  
A Decade-Long Story
In 2010, HOW TO TRAIN YOUR DRAGON introduced Hiccup Horrendous Haddock III. Voiced by Jay Baruchel, the young Hiccup was an awkward teen Viking who didn't fit in with the dragon-slaying villagers on Berk, his small island home. Working with Baruchel, directors Chris Sanders and Dean DeBlois positioned Hiccup — originally created by YA author Cressida Cowell — at the ideal starting point for a hero's journey.
Hiccup is an inventor, not a fighter. But then, his manufactured contraptions put him right in the path of a dangerous Night Fury dragon. When Hiccup wounds the flying beast, he gets a chance to realize something about dragons that no one else in his village had ever seen. In short, Vikings and dragons can live in harmony, and both sides will be better off for working together. There's just one problem: How can a boy who never wanted to battle dragons convince a bunch of warriors that they're wrong?
Boys to Men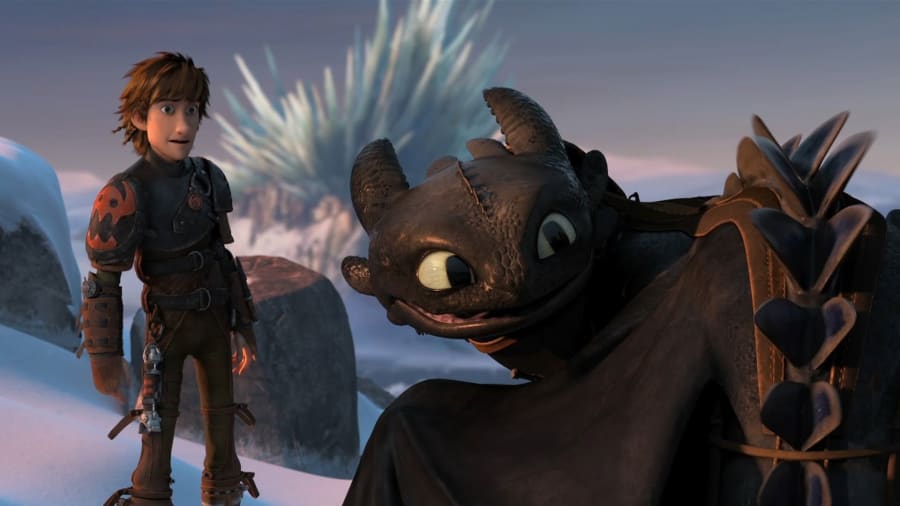 Adventure stories like HOW TO TRAIN YOUR DRAGON are all about arcs, like the one in the original 2010 movie. There's a potential hero, a set of conflicts and a chance for the youngster to overcome all of the obstacles in front of him. Following through in succeeding stories isn't so easy, however. It's less challenging to repeat the same ideas in a slightly different fashion than to find genuine new opportunities for character growth.
HOW TO TRAIN YOUR DRAGON 2, released in 2014 and once again directed by Dean DeBlois, pushes Hiccup to new levels of personal growth. The story picks up five years after the events of the first film. Humans and dragons now co-exist, but their new lives are threatened by warlord and dragon-hunter Drago Bludvist (Djimon Hounsou).
That new villain is ultimately just a force that pressures Hiccup into accepting new responsibilities. As his father encourages him to take a bigger leadership role in Berk, Hiccup meets his long-lost mother, Valka (Cate Blanchett), whose life path suggests very different possibilities for the rapidly blossoming dragon-rider. Hiccup must face true loss and sacrifice and decide what sort of man he wants to become. It's heavy stuff, but this sequel handles it with the grace of a dragon turning circles in air.
Saying Goodbye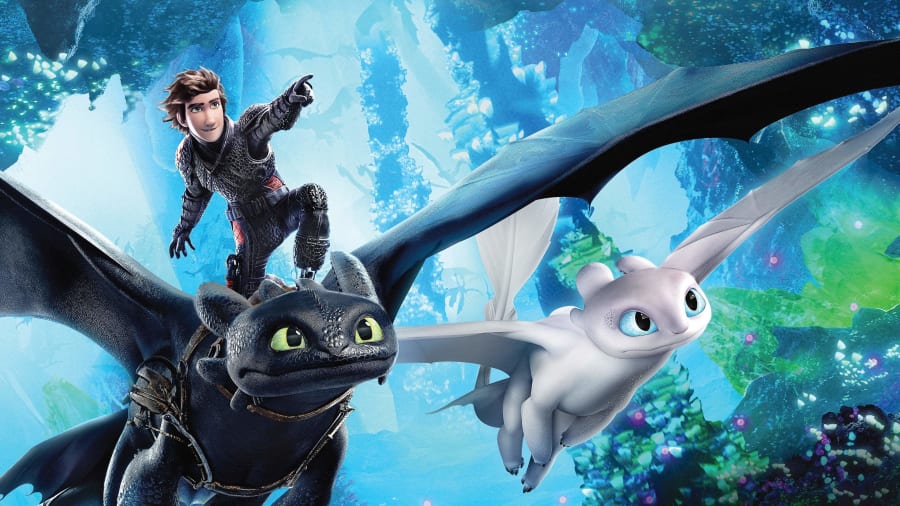 HOW TO TRAIN YOUR DRAGON: THE HIDDEN WORLD opens with Hiccup in yet a more evolved position. He's chieftain of Berk and working to reconcile his personal dreams with everything required by his role as a leader. Hiccup is pulled in different directions by the emergence of a new dragon, a conflict with a particularly dangerous enemy, and the promise of a safe haven for dragons. In order to truly move forward in his life, the new leader may have to say goodbye to what he loves most.
The final chapter for Hiccup and Toothless serves as a touching conclusion for the unlikely pair. With effective life lessons wrapped in thrilling fantasy, the HOW TO TRAIN YOUR DRAGON films have stood out from other seemingly similar movies. And if fans hate to say farewell to the high-flying duo, they won't be the only ones. In an interview with Metro UK, Baruchel spoke about saying goodbye to the franchise.
"I'm very proud of this film and very proud of the entire saga that we've given the world, but all the same, it's a bit melancholy to say goodbye to a character I've played for over 10 years. I've not played any character as long as I've been Hiccup, so it's a huge part of my life that's coming to an end."
HOW TO TRAIN YOUR DRAGON: THE HIDDEN WORLD opens on February 22.