Though we've never seen him on stage in the traditional sense, John Cena honed his acting craft in a different sort of stage setting: the wrestling ring. Cena has been one of the most charismatic presences in entertainment since he made his debut in World Wrestling Entertainment in 1999.
After seven years of blazing through the WWE scene, during which he amassed a large fan base as he developed his star power, Cena moved into movies. Thanks to WWE's film company, he got to make his movie debut in the 2006 action-thriller The Marine.
The film wasn't a huge theatrical success, but as a test balloon for Cena's big-screen career it accomplished everything it needed to do. The Marine helped put Cena into movies as a real career path, beginning with a couple of action films and family comedies before priming him to break out into mainstream comedy.
After the unconventional action films 12 Rounds and The Reunion, Cena's first major comedic hit would come in 2015's anti-rom-com Trainwreck. He co-starred alongside Amy Schumer, playing her casual boyfriend Steven. While Schumer has made her stamp in the comedy world and carried the movie with a strong performance, it was Cena, alongside LeBron James (yes, that LeBron), who stole the show.
Cena is perfect as the awkward gym addict who has true feelings for Amy. He's spot-on as he channels some atypically masculine ideas – this is a character who, despite his muscular stature, is really insecure and doesn't like to get into fights.
No moment captured this better than Cena trying to defend he and Amy against an annoyed guy at a movie. The scene is comically uncomfortable as Cena struggles to come up with any reasonable insults or comebacks, even dropping a few hints he might not like women as much as he pretends to.
The role proved he had range and Cena pushed deeper into comedy, with two more great comic roles in 2015 alone. The first was as the heavily-tattooed drug dealer Pazuzu in Sisters; the second was a cameo as the stepdad for the stepdad in Daddy's Home.
Cena got great notes and attention for his Sisters role; he was hardly recognizable beneath the character's tattoos and beanie. His deadpan delivery of the off-kilter dialogue was just right for the movie, and acted as a great step in his development as a comedy performer. Meanwhile, the Daddy's Home cameo set up Cena to return in a bigger fashion in Daddy's Home 2.
Those live-action gigs were followed by another new venture as Cena took the lead voicing the title character in the 2017 family adventure Ferdinand, an adaptation of the children's book about a bull with a big heart who is constantly assumed to be a dangerous beast. (Can you start to see the theme in Cena's roles?) The film got positive reviews, and many critics singled out Cena's performance as a highlight of the film.
All this leads up to Cena's most outrageous role yet in the teen sex comedy Blockers. Kay Cannon makes her directorial debut with the film, following her work writing the Pitch Perfect trilogy. The movie shows what a set of parents go through after discovering their kids have made a pact to lose their virginity on prom night.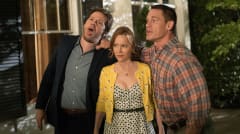 Blockers features all of the gross-out humor of great R-rated comedies, but plenty of warmth as well. Cena's performance combines those two ideas. As a father who's proud of his daughter's growth but also not ready to see her mature, Cena's character will go through anything to prevent his daughter from losing her virginity, including chugging beer right up his bum.
The wrestler-turned-actor nails his delivery of every over-the-top line and macho moment. Blockers shows Cena mastering the conflict between his muscular image and tender nature. It's his best comedic performance to date. He's a natural, and a total delight.