Young adult films – more specifically Young Adult films, adapted from novels marketed to a specific audience – have been Hollywood staples for nearly two decades. Ever since Harry Potter enchanted his way onto the big screen in 2001, YA adaptations have been big business. With young protagonists, star-crossed lovers and unstoppable threats, Hollywood just can't seem to get enough — especially if they deal with the end of the world.
While studios have found success adapting dystopian YA novels, a change could be on the horizon. Major franchises like The Hunger Games and The Maze Runner are finished, and the Divergent series burned out. Now we may be witnessing the end of dystopic YA films.
This doesn't mean that the genre itself is doomed, it simply means that things are changing. The apocalyptic movies that once entertained us have been recycled too many times. Audiences crave something different. One upcoming movie may provide what we're looking for: Love, Simon.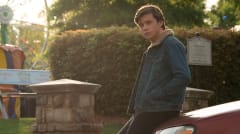 Based on the novel Simon Vs. The Homo Sapiens Agenda, the dramedy stars Nick Robinson as closeted gay teen Simon Spier. The character struggles with coming out in high school while falling for the mysterious Blue — an anonymous student he reached out to online. While young love is a common theme in almost all YA adaptations, Love, Simon is the first mainstream example to primarily feature a gay love story.
The reception to Call Me By Your Name highlighted the importance of representing gay relationships on the big screen. That Oscar-nominated movie was the latest to help pave the way for mainstream films to focus solely on gay protagonists in the future. Now Love, Simon has the opportunity to do the same — but by using YA conventions to its advantage.
The majority of YA adaptations focus on teenagers battling demons and overcoming obstacles. While Love, Simon may not be a post-apocalyptic story, it still metaphorically uses some of these aspects to reinvent the genre and tell a deeper story. Simon may not be battling physical demons, but he is definitely battling his own forces of antagonism. Not only does he struggle with coming out, he also faces the threat of a blackmailer who knows his secret. Thus, he is wrestling with his own demons that he must overcome.
Furthermore, while the stakes may not literally be life or death, they very much feel like it to the protagonist — making it a perfect YA story. Simon's fear of people discovering his secret plays a major role. This adds so much gravity to his story — because if anyone found out, it would be the end of the world for him. Thus, Love, Simon effectively uses the YA format to highlight social issues that are more relevant than ever. And this sets it apart from the rest of the films in the genre.
Make no mistake about it, gay characters have been a part of cinema for a long time and have even led independent films. However, the fact that a gay love story will lead this mainstream YA film is monumental. On that note, it's common knowledge that most YA movies tend to close on a positive note, pleasing their demographic audience. With that in mind, it will be refreshing to see a positive (and perhaps even comedic) take on a theme that has often headlined tragic independent pieces.
If successful, the film could very well herald a new wave of LGBTQ YA films. Moreover, it could pave the way for other stories which utilize the genre conventions to highlight relevant issues, effectively proving that YA genre can do so much more than just recycle the end of the world.
With the YA dystopian era quite possibly behind us, the timing of Love, Simon's release couldn't be more appropriate. As the novel uses some of the characteristics associated with the YA dystopian pieces to highlight more personal issues, the film will undoubtedly do the same. And this could signify the dawn of a new era for Hollywood's adaptations of the YA genre. In the place of apocalyptic love triangles, we could see more subtle, personal stories. In the place of aliens, we could see rich internal conflict. And in the place of more star-crossed heterosexual lovers, we could see more same-sex couples on the big screen.
YA films aren't dead; they're just changing, and that change starts with the release of Love, Simon.
Love, Simon hits theaters on March 16, 2018. Check out the Movie Info below to set a reminder for when tickets go on sale!