This was unexpected. A second, full trailer for Jon Watts' upcoming SPIDER-MAN: FAR FROM HOME just dropped, and buried within it is a major game-changing plot twist that puts the Marvel Cinematic Universe on its head. Stop reading now and do not watch this trailer if you haven't yet seen AVENGERS: ENDGAME. (And if you haven't, what are you waiting for?)
As you can tell, a lot of the new SPIDER-MAN: FAR FROM HOME trailer shows Peter Parker (Tom Holland) recovering from the events of ENDGAME and the sacrifice made by his mentor, Tony Stark (Robert Downey Jr.). Peter is feeling the pull to be the new Iron Man. But he also wants to press "pause" on the superhero game and just enjoy a vacation with his classmates. What's a friendly neighborhood Spider-Man to do?
Plans change when Peter is confronted by Nick Fury (Samuel L. Jackson) in Europe and introduced to a new ally named Quentin Beck (Jake Gyllenhaal), aka Mysterio. Beck, we are told, isn't from our Earth; he's from another Earth. Thanos' snap created a rip in our universe's fabric, which means that multiverses are in play in the MCU.
That's a major change!
Science-fiction fans will understand the concept of multiverses, but for casual readers, it basically means that at any given time, there are mirror-image universes happening that run parallel to our own existence. If you could bridge a path between our universe and a like-minded multiverse, you might find a second Spider-Man. The concept was explored in the animated SPIDER-MAN: INTO THE SPIDER-VERSE, but has yet to be fully explored in the live-action MCU.
Will this be the first introduction? It's looking that way. There are so many things that multiverses could do for the MCU. Maybe this is how the Fantastic Four gets introduced. Maybe this is where Mutants will come from in the Marvel Studios world. And maybe another Spider-Man will show up in FAR FROM HOME. Could Miles Morales appear on screen?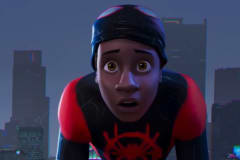 No matter how you look at it, this is a bold step forward for the MCU, and it could have earthshaking ramifications for the types of stories that are told in the franchise moving forward. Also, from the looks of this trailer, it's just lining up to be an exciting Spider-Man adventure, with Peter Parker facing off against the Elemental creatures that mirror B-level villains from his rogues' gallery — from Sandman and Hydro Man to Molten Man. These are people we never thought we would see on screen, but are excited to finally see them realized.
Tickets are now on sale for SPIDER-MAN: FAR FROM HOME, which reaches AMC theatres on July 2. Make sure to grab yours now, to ensure you get the best seats in the house.