It's always a little nerve-wracking to watch a studio remake a film, especially a comedy from a different era, when things were … not the same. OVERBOARD is one such film — hailing from 1987, a full 31 years ago, before the internet, cell phones and avocado toast.
But with a little dusting off and updating, OVERBOARD manages to find its sea legs in 2018 by turning the old model on its head and exploring what life is like in today's world.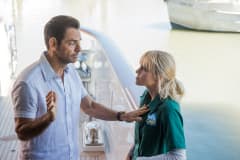 First, the movie completely switches up the roles. Goldie Hawn as a spoiled, snobby rich woman gets swapped with comedic favorite Eugenio Derbez as a wealthy playboy; Kurt Russell's working man carpenter is switched to Anna Faris' struggling single mom; and suddenly the two roles have added depth to mine for both laughs and heartfelt moments.
On top of that, the film has a decidedly robust infusion of Latino characters. Where the original OVERBOARD was bereft of any characters of color, the updated version reflects stronger representation of the Latino community, with characters in all walks of life. Besides Derbez's affluent ladies' man, Latinos are depicted as middle-class business owners, as well as construction workers, livening up the film in a way that is seldom seen in Hollywood fare.
It's exciting to see a remake that's left no stone unturned, and when a studio is unafraid to make across-the-board changes, we're on board! Find showtimes and tickets to OVERBOARD at an AMC theatre near you today.