What *is* that thing? That's the question everybody asks after seeing Myles Truitt holding an alien weapon in the trailer for Kin, opening on August 31. The sci-fi thriller from the producers of Stranger Things and Arrival features a terrific ensemble cast and a story that revolves around that burning question.
Without spoiling any of the film's surprises, here's what Kin has to offer.
The Story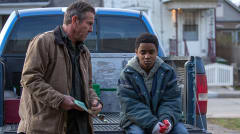 Young Elijah Solinski (Myles Truitt) is having a hard time with his adoptive father, Hal (Dennis Quaid). Then Hal's biological son, Jimmy (Jack Reyner), is released from prison, and their home life gets more complicated. Hal worries that Jimmy could be a bad influence on Elijah, but the brothers get into trouble that is beyond anything Hal has reason to imagine.
While collecting scrap to sell, Elijah discovers a weapon of mysterious origin. As forces from Jimmy's past converge on the young men, Elijah uses the weapon to protect his brother. Despite holding an object of immense power, the two go on the run from a crime lord, the FBI, and a gang of otherworldly soldiers.
While Kin will follow several characters, Eli is very much at the center. Producer Shawn Levy spoke to Collider about this:
"Eli in our movie, Kin, ends up being healed in some ways by this object that is not of this world. And frankly, even more so by the journey that he takes with Zoe Kravitz and Jack Reynor, who plays his brother."
The Cast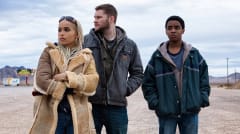 Here's Kin impressive cast, and a few spoiler-free details about their characters.
Jack Reyner is Jimmy Solinski, an ex-con who is released from prison at the beginning of the film. He owes money to crime lord Taylor Bolek who, as we can see in the trailer, isn't an obliging person. Over the course of the film, Jimmy will learn to trust and protect his younger brother.
Myles Truitt is Elijah Solinski, who is struggling at the start of Kin. When he stumbles upon a mysterious alien weapon, the object changes his life. Eli isn't exactly an action hero, but the film's events will push him.
Dennis Quaid is Hal Solinksi, father to both Jimmy and Elijah. Details about Hal have been kept close, but we do know that Quaid is just about the best choice for a caring, concerned father figure.
James Franco is Taylor Bolek, a vengeful crime lord who wants the money owed by Jimmy. His relentlessness drives part of the story as he pursues the Solinski brothers.
Zoë Kravitz is Milly, Jimmy's girlfriend. We don't know much about the character, but as she's on the run with Jimmy and Eli we know that she'll play a significant role.
Carrie Coon plays one of the FBI agents investigating the weapon Elijah finds. While we don't know many details about her character, we do know that there's no one we'd rather have representing the forces of law and order than Carrie Coon.
The big question here is: can Jimmy, Eli, and Milly outrun those otherworldly soldiers who really want their gun back? We don't have the answer — and even if we did we wouldn't tell you — but we'll find out at the end of the month.
Kin hits theatres on August 31, 2018.