Every time you get in an Uber, it's a total crapshoot: Will your driver talk too much? Will they play horrible music or obnoxiously talk on the phone the entire time? Will the car smell weird? But it's a risk that goes both ways — every time a driver picks up a customer, it's a risk for them, too. Their customer could be rude or drunk. Their customer could also be a detective on the hunt for a deadly criminal.
The action-comedy STUBER explores what just might be the craziest Uber situation ever, when Kumail Nanjiani's driver gets way more than he bargained for when he picks up Dave Bautista. He's how the ride begins.
The Ultimate Uber Ride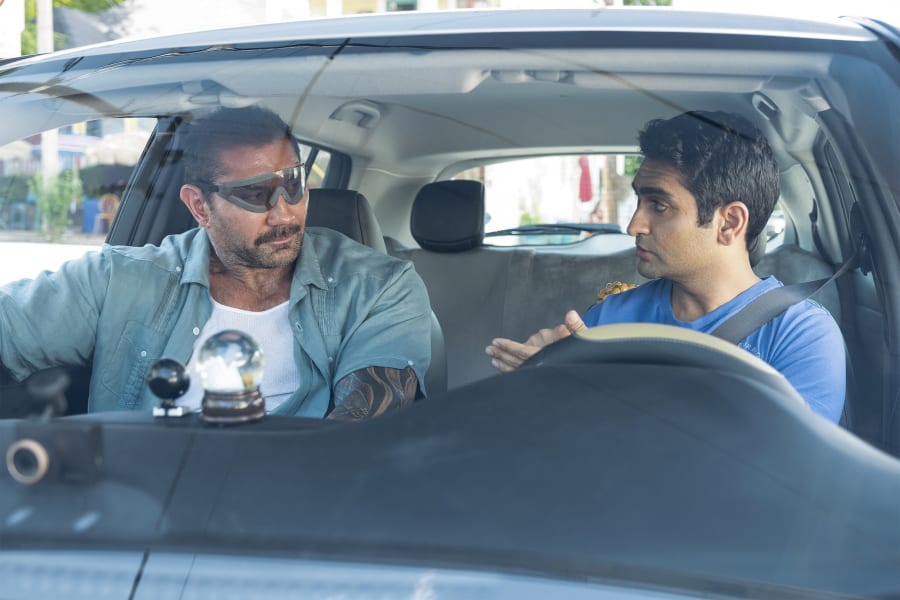 Kumail Nanjiani is Stu, a mild-mannered and unsuspecting Uber driver. All he really wants to do is keep his rating up. When Stu gets a far request, it seems harmless at first — until he lays eyes on his customer: a hulking, totally ripped guy named Vic, played by wrestler-turned-actor Dave Bautista (GUARDIANS OF THE GALAXY). Vic is a detective for the Los Angeles Police Department, and he's on a race against the clock to chase down a maniacal and highly dangerous criminal before he kills again.
Stu and Vic make a classic comedic odd couple: Stu is pleasant and naive, while Vic is rough around the edges and extremely intense. Despite their obvious differences, the pair must work together in what quickly becomes the most insane Uber ride of Stu's life. It's an action-packed and hilarious adventure that takes the unlikely duo all over Los Angeles, forcing Stu to summon courage he never knew he had. Wild car chases, crazy gun fights, taking down bad guys and getting into deadly situations are all in a day's work for Vic, but for a regular guy like Stu, they make for a life-changing experience.
Stuber's Star Power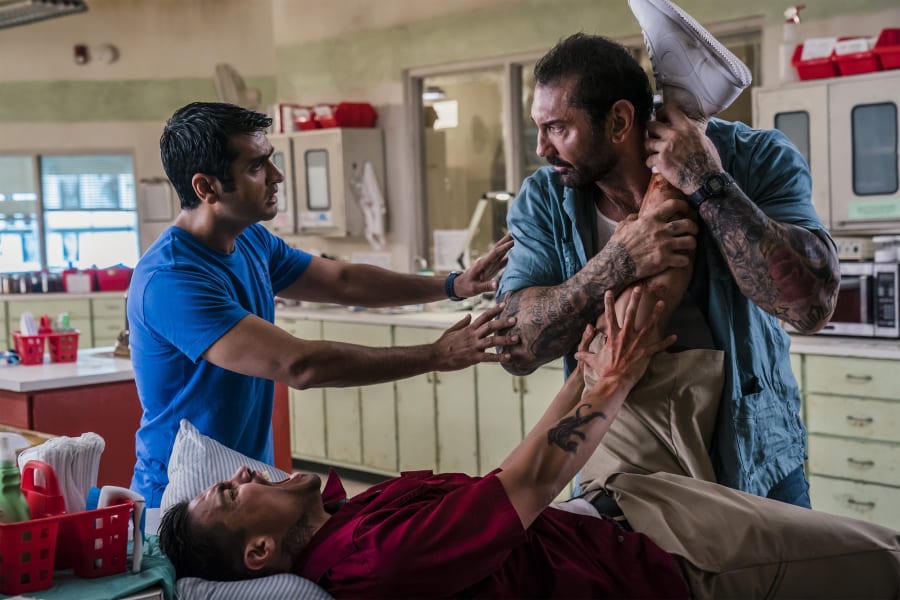 Comedian and "Silicon Valley" star Kumail Nanjiani hit the big time with his rom-com THE BIG SICK (which he also co-wrote), which proved he's got what it takes to be leading man material. Pairing Nanjiani with his complete opposite — a massive wrestler with an intense attitude — seems like a comedic no-brainer. Dave Bautista is, of course, best known for his time in the WWE, but he's become a star outside the ring with roles in GUARDIANS OF THE GALAXY and BLADE RUNNER 2049.
Joining them on this wild ride is an excellent supporting cast that includes Iko Uwais as Teijo, a lethal drug trafficker and cop-killer — and the guy Vic's racing to hunt down. Uwais is an Indonesian actor and martial artist who's starred in action flicks like THE RAID and last year's MILE 22, opposite Mark Wahlberg. STUBER also stars Natalie Morales as Nicole, Vic's daughter. Viewers will probably recognize Morales from her supporting and guest roles on comedy series like "Parks and Recreation" and "Santa Clarita Diet." Bautista's GUARDIANS OF THE GALAXY co-star Karen Gillan plays Vic's partner, Morris. Rounding out this cool cast are "Glow" star Betty Gilpin and Oscar®-winner Mira Sorvino.
Five Stars!
With its blend of action and comedy, STUBER is basically the perfect summer movie, which makes its July 12 release date ideal. Escape the heat and treat yourself to a hilarious thrill ride featuring an awesome cast of familiar faces, killer action sequences and mind-blowing fight scenes between a WWE champ and a martial arts pro.
STUBER pulls up to AMC on July 12.