If it's been a while since you last sat down to watch Walt Disney's 1941 classic DUMBO, there are some crucial details about it that you might not recall. For starters, it's only 64 minutes long. Also, despite some moments of tenderness and wonder, it can be a deeply sad story and a disturbing film.
None of this was lost on the team that gathered to reimagine DUMBO for a new generation. Tim Burton is at the helm of the DUMBO remake for Disney, and he has recruited Colin Farrell, Eva Green, Danny DeVito and Michael Keaton to help him on his path.
Producer and screenwriter Ehren Kruger recently shared all of the ways that Burton expanded on the original film. When asked why the team approached the original DUMBO and how they expanded on it for a new audience, Kruger said to first understand the elephant, they had to get inside of his head.
"I wanted to be a part of this movie for I think the same reasons that I hope an audience wants to see the movie, that for me is a very personal experience of wish fulfillment," Kruger said. "Dumbo is not just a Disney character. He's a mythological character. And I wish he were real. I wish I could have been in the audience of that circus in the golden age of the circus and observe his story. And then, to take the next step, not just observe his story, but imagine what it's like to be Dumbo. And that leads you to a place where you say, 'What would Dumbo want, and is the end of the 1941 film truly a satisfying end for the Dumbo of that story?' And so, that just organically led to expanding the story past where the animated film ends."
That's the point of a remake, after all. It's not just to regurgitate what worked well in the original movie. Any filmmaker can do that. It sounds like Tim Burton and his team moved beyond the original story to find out what should happen to the elephant next. Where would he go? What would he do? DUMBO may look down those paths.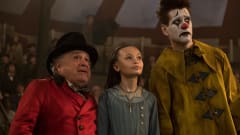 When asked if he actually sees himself in any of the characters who appear in this DUMBO expansion, Ehren Kruger replied, "All of them. But in the same way, why is Dumbo a universal character and a universally loved character? Because everyone sees themselves in the story of a character who has self-doubt, who has flaws, who is defined as one thing by someone else, and has this mouse inside them telling them, 'Maybe you're more than that.' Or, 'Maybe that negative is a positive.'
"So, we worked very hard to create a menagerie of human characters," Kruger continued, "the circus family around Dumbo, who all in some way were wrestling with uncertainty about themselves and their place in the world — and in fact, the circus' place in the world — so that Dumbo could be for each one of them an inspiration, like he is to audiences worldwide."
DUMBO arrives in theatres on March 29. It's the first of three major live-action interpretations of Walt Disney classics coming to theatres this year, including ALADDIN with Will Smith and Jon Favreau's THE LION KING.