The wizards at Pixar Animation Studios have been entertaining audiences of all ages since Buzz and Woody embarked on their first adventure in 1995, so we have decided to rank our 10 favorite Pixar features. Choosing only ten from the vast library of movies is almost impossible, as the animators have weaved some of the most memorable stories from the past three decades. But these are the 10 Pixar movies we can watch over and over — and usually do.
10. Cars
A race car reconnects with his roots when he breaks down in a tiny town located off Route 66. Sounds simple, but John Lasseter layers CARS with a homegrown affinity for automobiles, racing and the communities that sprang up alongside America's highways as we migrated from east to west. Owen Wilson was great as Lightning McQueen, but the breakout star remains Larry the Cable Guy's Mater, the kindly tow truck.
9. Ratatouille
Anyone can cook — even a rat (Patton Oswalt) with refined tastes who lands in Paris and begins to prepare award-winning French cuisine. It sounds crazy, but when injected with Brad Bird's whimsical filmmaking flavor, it all works.
8. Coco
COCO reminds us why it's so special when Pixar filmmakers tell personal, heartfelt stories instead of sequels to proven properties. Lee Unkrich digs deep into his Mexican heritage to tell a musical journey through the Land of the Dead that explodes with color and hides a clever murder mystery with a wallop of an emotional finale. Bring boxes of tissues.
7. Toy Story
The one that started it all and changed the idea of "animation" as a genre meant to pacify children. Pixar pushed the boundaries of storytelling with its initial TOY STORY, placing as much emphasis on the plot and characters as it did on the visuals. TOY STORY looks dated now, but it remains a historic achievement and a total game changer for the way family films would be made and viewed.
6. The Incredibles
In the golden age of superhero movies, Pixar introduced a family of heroes who were forced to hide their abilities — until they were lured out of "retirement" by a conniving and manipulative villain. Leave it to Pixar to reinvent an incredibly (no pun intended) popular genre and change the way that we look at superheroes.
5. WALL-E
A lonely robot with an ear for Broadway show tunes finds love on a postapocalyptic, trash-laden planet that was destroyed by society's need for overconsumption. Andrew Stanton's masterpiece makes razor-sharp social commentary while also plucking at the heartstrings with two personable robots who can't speak a word of dialogue beyond each other's names.
4. Monsters, Inc.
What if the monsters we think lurk in our closets are real and they use the screams of children to power their city? Sounds like a terrifying premise, but MONSTERS, INC. ends up being dizzyingly creative and hysterically funny thanks to the vocal pairing of Billy Crystal and John Goodman. They'd team up later for the equally delightful prequel, MONSTERS UNIVERSITY.
3. Finding Nemo
Disney took THE LITTLE MERMAID fans "Under the Sea," but Pixar expanded on the depth of the oceans when it sent Marlin (Albert Brooks) on a rescue mission to find his kidnapped son, Nemo (Alexander Gould). Ellen DeGeneres stole the show from both clown fish, though, by playing the forgetful Dory, who later got her own movie.
2. Inside Out
Pixar takes us inside the mind of an adolescent girl who is enduring a move and shines the light on honest and emotional commentary about the internal struggles we all feel at any given moment. Amy Poehler was expertly cast as the vibrant Joy, and if you don't cry when you think about Bing Bong, it's possible you might be lacking a heart.
1. Toy Story 3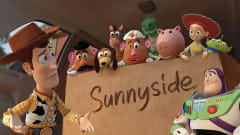 The best of the TOY STORY movies, and also the most emotional, as it brought the story of Woody (Tom Hanks), Buzz (Tim Allen) and their boy Andy to a close … until the series decided to come back with a new adventure we are excited to see.