To say that Avatar 2 has been a long time coming would be a major understatement. Fans of the film series have been eagerly waiting for the sequel's release since the first installment exploded onto screens back in 2009. And with mixed messages about how many sequels we were actually getting, it started to feel like it was never going to materialize.
However, it was finally confirmed that we would be getting four Avatar sequels, with the first one due out in December 2020. And now that production has finally begun on the first of them, it seems like things are once again looking up for the franchise.
But the positives don't stop there, as the first look at the new cast members has been revealed. Check it out below: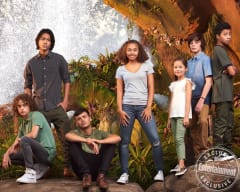 According to Entertainment Weekly, all of the kids above (with the exception of Jack Champion) will be portraying Na'vi kids in the sequel. Some of them will be portraying the children of Avatar protagonists Jake and Neytiri, while others will be the children of another Na'vi clan. Champion's character will be a human teenager named Javier "Spider" Socorro, who was born at the Hell's Gate military complex.
The film's producer Jon Landau spoke about the importance of the kids in Avatar 2, and how it will be a first for the franchise. He commented:
We never had this youthful element before, and that brings a different kind of energy to the film. They represent the future generation of Pandora and play a very significant role — not just in this movie but throughout all the movies.
The Next Generation
When Avatar was first released back in 2009, it made an impact like nothing else ever had. Exploding onto the cinema, the film was acclaimed for its groundbreaking special effects, stunning 3D and endearing storyline. This adoration was reflected in the film's box office takings, which ensured that it became the highest grossing movie of all time. Simply put: We had never seen anything like Avatar before.
However, that was nearly a decade ago and Hollywood has moved on a great deal since then. While popular film franchises weren't in full swing back then, we now have the returning Star Wars, Jurassic Park and Terminator franchises as well as incredibly successful shared universes, the MCU and DCEU. Thus, it's safe to say that the film industry has moved on from Avatar, and another film full of special effects just won't be enough to make it a success.
By adding a generation of kids to the mix, Cameron and co. now have the chance to tell a brand new story with endearing characters that we've yet to meet. As Landau stated, we haven't seen Na'vi children before and this opens up a whole new world with a compelling story.
As seen with the likes of Stranger Things and IT, a cast full of kids can really help propel a product to the stratosphere. They are curious, endearing and downright fearless, and those are qualities we like to see in characters. So, without the allure of groundbreaking special effects, Avatar 2 needs a new way of captivating us, and the young cast is exactly how they can achieve that.