If you're a Marvel fan like us, you've been counting down the days to BLACK PANTHER since the film was announced in 2014. The third installment of the CAPTAIN AMERICA franchise, CIVIL WAR, gave us a peek of the new-to-screen character and his super sleek suit — but since, the king of Wakanda, his army and his enemies have received wardrobe upgrades, making BLACK PANTHER even more visually enticing. 
It's mid-April 2017, and on the humid Atlanta, Georgia, set of BLACK PANTHER — perhaps both the riskiest and most exciting Marvel film thus far — we are getting a special behind-the-scenes look at elements of director Ryan Coogler's film, starring Chadwick Boseman, that would cause most comic book fans to lose their minds with envy.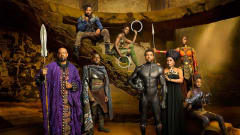 "We have a lot more costumes than you usually see in a Marvel film," admits costume designer Ruth Carter. She's not kidding, either. In the grey, high-ceiling staging room of a massive soundstage, three BLACK PANTHER extras model a series of stunningly detailed outfits for the forthcoming superhero movie, including those for a grass-skirted M'Baku, a frequent enemy of the main character, and the Dora Milaje, the king's all-female military protection force. The costumes, which include molded foam with striations, showcase a level of craftsmanship and attention to detail that bodes well for Coogler's vision of the film — something his collaborators all heartily confirm. "The process of working with Ryan was a very creative and fulfilling one," notes Carter, an Academy Award® nominee for her work on both Spike Lee's MALCOLM X and Steven Spielberg's AMISTAD.
One of the other big creative draws for fans, of course, is simply the character of black panther — a superhero who was introduced as part of the shared marvel cinematic universe in 2016's $1.15-billion-grossing captain america: civil war. "it's as if james bond was also the prime minister of england," explains executive producer nate moore, invoking perhaps cinema's most famous spy while also underscoring t'challa's responsibilities as the leader and monarch of the fictional african nation of wakanda. "there's more gravity to the character — and because of that duality he has (problems like) no other marvel character has to deal with," moore continues.
so, of all of black panther's costumes, of course, some of the highest interest centers around the suit of its titular superhero. vibranium-laced so it can absorb the kinetic energy of blows and redistribute it back out with the character's own punches and kicks, the costume is of the skin-tight variety that has become normal for many big screen superheroes, like batman, superman, deadpool and more.
for the stand-alone black panther movie, though, producers wanted to make some updates and tweaks from the costume fans saw in captain america: civil war. so, designed by ryan mitterdeng, the new black panther suit is lighter and made of thinner fabric — yet with stronger gussets, in order to avoid the types of rips and tears that can come with the sudden movements associated with the brazilian and african-based martial arts the character utilizes in action scenes. mitterdeng also streamlined the panther tooth necklace that adorns the costume's neckline. made of imported halian "junk" fabric, mitterdeng and carter opted for a white color, which they then dyed light black, in order to give coogler and the filmmakers more flexibility with regards to lighting scenes. the end result, vetted by boseman and met with enthusiastic approval, seems sure to leave fans worldwide with a sense of awestruck excitement and admiration, which we won't have to wait much longer to experience.
Black Panther opens Friday, February 16. browse showtimes and get tickets on our website or at an AMC theatre near you.
Written by: Brent Simon