The film industry tends to run on familiarity. Franchises are built around characters and stories that audiences already recognize, which is why long-running comic books and trusted brands like Robin Hood and Sherlock Holmes inspire the bulk of our entertainment at the multiplexes. So, when a semi-original property comes around, like February's anticipated release of ALITA: BATTLE ANGEL, we tend to get very excited.
We say "semi-original" because Robert Rodriguez's ALITA: BATTLE ANGEL is inspired by a beloved manga comic "Gunnm," which also goes by "Battle Angel Alita." But for many outside that fan base, the pending movie will be the introduction of this incredible new character and the world she inhabits. To help get you prepared for the new movie, let's run through what you need to know about the title character, Alita. 
Who Is She?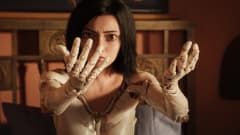 This gets complicated, right off the bat. Alita, played on screen by Rosa Salazar using cutting-edge motion capture technology, isn't really a she at all. She's a cyborg creation with very few body parts left, who is unearthed in a local garbage dump by Dr. Ido (Christoph Waltz). 
At the time of her discovery, Alita suffers from amnesia. But, as Ido rebuilds her, Alita realizes that she has a vivid and lethal past and that she's way more important to the state of the world — socially and politically — than either she or Ido ever believed.
Alita's Path to the Big Screen
There's a chance you might have heard about an ALITA: BATTLE ANGEL movie making its way to theatres over the years. That's because Oscar®-winning filmmaker James Cameron has been shepherding this adaptation as far back as 2000. 
Cameron always envisioned a multifilm adaptation of Yukito Kishiro's "Battle Angel Alita" manga that would focus on, initially, the first four books in the comic series. The film project started then stalled so many times (as blockbuster franchises often do), and eventually Cameron shifted his attention to another original project that would break significant visual and technological ground: AVATAR.
But 20th Century Fox still wanted to make ALITA: BATTLE ANGEL, and producer Jon Landau worked tirelessly behind the scenes to find the right creative partner to step into James Cameron's massive shoes. Landau found the right collaborator in Robert Rodriguez, a director who tested the boundaries of mocap technology in his SIN CITY movies, as well as his family-friendly SPY KIDS films. Cameron stayed on as a producer and creative consultant, and the team moved to Weta in New Zealand to begin perfecting the special effects needed to bring ALITA: BATTLE ANGEL to life.
Other ALITA Characters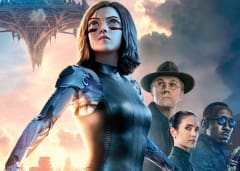 ALITA: BATTLE ANGEL is set in a post-apocalyptic world and is filled with wildly original characters. But there are a few, in addition to Alita (Salazar) and Dr. Ido (Waltz), that you will want to familiarize yourself with before heading to AMC theatres in February to see this action-adventure.
Most stories need a villain, and Alita eventually finds herself on the run from assassins played by Ed Skrein (DEADPOOL) and Eiza González (BABY DRIVER). These two play cyborgs whose mission is to eliminate Alita, once their boss realizes that she has been revived.
The centerpiece of ALITA: BATTLE ANGEL is a deadly sport known as Motorball, and a handful of characters in the new movie are associated with the fast-moving game. Vector (Mahershala Ali) tends to rig the games so that they favor whomever he wants to win. Meanwhile, Hugo (Keean Johnson) is a Motorball expert who takes time to teach Alita how to play. As you might have guessed, Hugo is also a love interest for our title heroine. 
Finally, there's Chiren, Ido's one-time girlfriend and an ally of Alita as the cyborg attempts to complete her ultimate quest. To fill this pivotal role, Robert Rodriguez tapped Jennifer Connelly, last seen on the big screen in the 2017 firefighter drama ONLY THE BRAVE.      
Robert Rodriguez's ALITA: BATTLE ANGEL opens at your local AMC theatre on February 14. We have been lucky enough to screen footage from the movie and can tell you that ALITA features some of the best on-screen 3D we've witnessed in some time, possibly since Cameron improved the tech for AVATAR.