If you thought EIGHTH GRADE was awkward, just wait until you enter the world of sixth grade with GOOD BOYS. The new comedy written by Gene Stupnitsky and Lee Eisenberg ("The Office") and directed by Stupnitsky follows three close friends on a wild and crazy journey filled with first kisses, grade school politics, and … drugs and profanity.
In other words, these are not your typical sixth-grade shenanigans. It may be a comedy starring three adorable young actors, but for most parents, GOOD BOYS will feel a heck of a lot more like watching a horror movie.
Cute Kids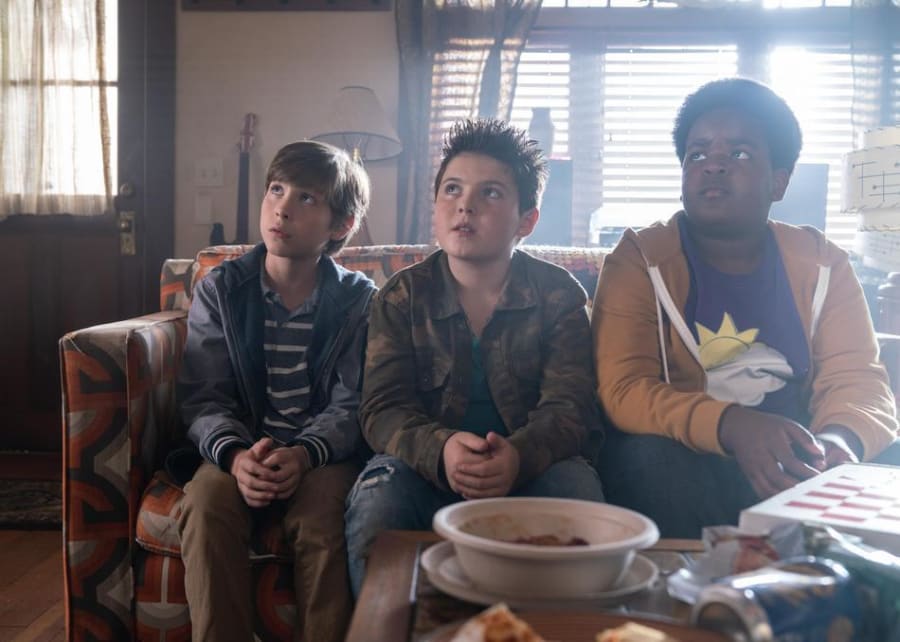 GOOD BOYS stars Jacob Tremblay (THE BOOK OF HENRY) as Max, Keith Williams ("The Last Man on Earth") as Lucas, and Brady Noon ("Boardwalk Empire") as Thor (yes, really). The three kids have been best friends for as long as they can remember. But sixth grade is a pivotal time in a young person's life: Cliques become more of an issue, interests change, and then there are the crushes.
For Lucas, an earnest kid who's fond of his school's antibullying squad, things are more complicated because his parents (Retta of "Parks and Recreation" and Lil Rel Howery of GET OUT) are moving toward divorce. Meanwhile, Thor wants to pursue his dramatic and musical ambitions by auditioning for the school's production of "Rock of Ages." And Max, well, he's your average 11-year-old boy with a burgeoning interest in girls — which his dad (Will Forte) is embarrassingly excited about.
When Max is invited to a "kissing party" by the cool kids, he "borrows" his dad's drone so he and his friends can spy on a couple of teen girls in the neighborhood. But when they get busted and the girls steal the drone, the trio embarks on an insane mission to get it back — one that involves beer, drugs and a ton of other things 11-year-old boys have no business getting into.
So Much Swearing …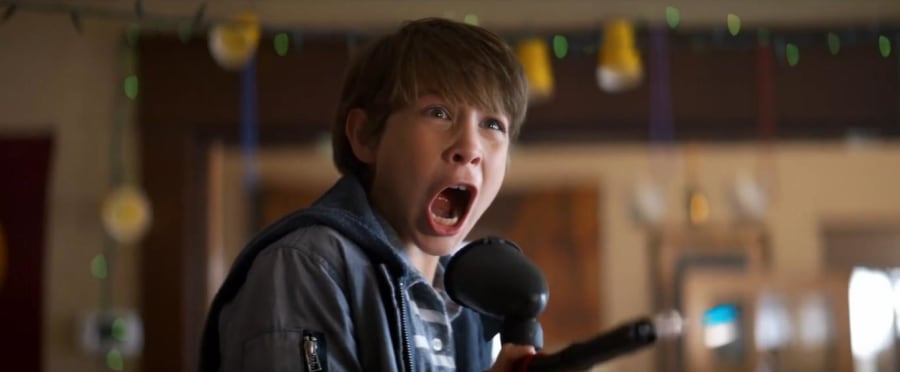 First of all, there's a ton of profanity — and for most viewers, that will be a big part of what makes GOOD BOYS so funny. As the title suggests, these are pretty good kids who usually don't get into trouble. That makes it even more hilarious when they start dropping f-bombs and talking about sex acts.
Max, Thor and Lucas are the kind of kids who call themselves "the Beanbag Boys," because they like to sit in beanbags when they hang out. They're not the kind of kids who really understand the meaning of the swear words they're using, which, again, makes things extra comedic. For many parents, the profanity won't be as much of an issue as some of the other situations these kids get into. Those f-bombs, it turns out, are just the tip of the iceberg.
… And Other Inappropriate Behavior
As the very red-band trailer above shows, things get even more hilarious (or terrifying, depending on your parental status) when Max, Thor and Lucas try to recover the drone. The mission sees them selling a sex doll to an adult man (Stephen Merchant) they find online, procuring illicit drugs for the teen girls, and running across multiple lanes of highway to get to the mall.
It's this last scene that will make even the parentless viewers nervous as these pint-sized kids play a real-life version of "Frogger" while cars zoom by all around them. Just keep telling yourself it's only a movie. And a very funny one at that.
GOOD BOYS comes to AMC on August 16.