Pretty much every kid dreams of finding something left behind by aliens. If that thing was a gun? Look out. That's where Kin begins.
12-year-old Eli stumbles across a bunch of seemingly dead aliens, and takes home a mysterious weapon as a souvenir. That weapon comes in handy when his older brother, fresh out of prison, gets in trouble with a crime lord. Naturally, using the gun isn't the best decision, and soon the brothers are in more danger than they can fathom.
Kin is directed by Jonathan and Josh Baker, based on their short film Bag Man. Myles Truitt debuts as Eli, and the cast also features Jack Reynor, Zoë Kravitz, Carrie Coon, Dennis Quaid, and James Franco. The fact that Kin's main characters are brothers might have been a tip-off, but what makes this film different is the ways it explores family through science fiction.
Protection And Consequences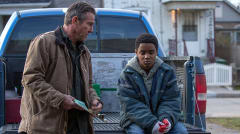 Adopted brothers Jimmy (Reynor) and Eli never really had a chance to get to know each other. Back in the real world after six years in prison, Jimmy finds that he isn't completely free. Before prison, Jimmy got involved with local crime boss Taylor (Franco), and now Taylor's thugs are ready to collect money owed to their boss. Eli makes the snap decision to use the mysterious alien weapon to save his brother.
But firing the weapon has consequences. Not only is Taylor after Eli and Jimmy, pulling the trigger also catches the attention of the aliens – surprise, they're not dead! Complicating things further is that using the weapon "imprints" it on Eli, making him easier for the aliens to find. And the extra-terrestrials want their gun back.
Oh, and one more thing. An FBI agent played by Carrie Coon is also very interested in the brothers. So that's three pursuing groups, two brothers, and one alien gun. The only option Eli and Jimmy see is to go on the run. Luckily, they have each other to lean on.
No Bond Is Stronger Than Family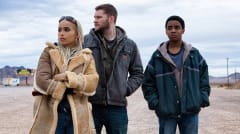 Kin's tagline is well-chosen. Family is at the center of this storm of action, violence, and aliens. Jimmy got Eli into a mess, and realizes his responsibility to his brother. It's his job to keep Eli alive. The boy hasn't had a stable life so far, but was adopted and has been raised by a hardworking single father while Jimmy was in prison.
Now, the only person Eli can depend on is a brother he hardly knows. It falls to Jimmy to step up and keep his little brother safe in the hopes of creating a new life for them both.
Their relationship is new; relying on family is uncharted territory for the brothers. What better way to bond than to be on the run from aliens and a criminal hellbent on revenge? (Not that we'd recommend seeking out that scenario, but if you're already in the middle of it, might as well look for the silver lining.) The only protection they have is the weapon that got them into trouble in the first place. Even though the artifact is the key to their survival, their family bond will ultimately be the key to their future.
Kin hits theaters on August 31.