The proverbial Bat Signal has been shining over the streets of Hollywood, and TWILIGHT star Robert Pattinson has responded. To be fair to Pattinson, however, if you still only know him as Edward from the TWILIGHT movies, then you have not been paying close enough attention to the outstanding dramas he has appeared in over the past few years.
Robert Pattinson officially has been cast as Bruce Wayne in Matt Reeves' planned THE BATMAN, which will be in theatres on June 25, 2021. It will be a reboot of the character, having nothing to do with the version of the Caped Crusader played by Ben Affleck most recently in JUSTICE LEAGUE.
Rumor has it that Reeves wants to set up a younger Batman to potentially do a trilogy and the director looked at X-MEN star Nicholas Hoult as well before settling on Robert Pattinson. Naturally, a corner of the internet expressed outrage over the casting of Pattinson as Batman, arguing that he's a sparkly vampire who doesn't have the proper physique to play the Dark Knight.
But ever since bursting on the scene in the TWILIGHT franchise, Pattinson has gone out of his way to challenge himself in dramatic roles and work with experimental directors. Perhaps his best movie to date is the recent GOOD TIME, where he and his brother attempt to rob a bank, only to have things go horribly wrong. Outside of GOOD TIME, Pattison has been fantastic in films like HIGH LIFE, COSMOPOLIS and the underrated LOST CITY OF Z.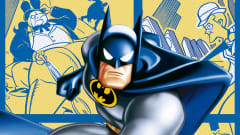 Here's the thing, though. Most audience members don't come to Batman movies based on who is wearing the cape and cowl. The casting of the villains in the Batman movies to date has earned bigger headlines that tend to overshadow the hero, whether it be Jack Nicholson and Heath Ledger as their Jokers, Jim Carrey as the Riddler, or Tom Hardy and Anne Hathaway as Bane and Catwoman in THE DARK KNIGHT RISES.
Also, almost every Batman casting has been met with resistance. Michael Keaton was largely known as a movie comedian with movies like MR. MOM under his belt before Tim Burton cast him. George Clooney was "that guy from ER," and very few thought Ben Affleck would be a convincing Batman before he joined BATMAN V SUPERMAN: DAWN OF JUSTICE.
What we're saying is wait and see on Robert Pattinson. Obviously Matt Reeves saw something in the young actor to hire him as Batman. And Reeves has done an outstanding job on his previous movies, from LET ME IN and CLOVERFIELD to his two PLANET OF THE APES films.
It will be a couple more years before we are able to see what Reeves and Pattinson are able to cook up, but we're excited to find out what version of Batman comes out of this collaboration.