Depending on which film series is your favorite, Tim Story may be best known for BARBERSHOP, FANTASTIC FOUR, RIDE ALONG, THINK LIKE A MAN or even the upcoming SHAFT. Few directors have not only presided over, but developed more franchises — and different kinds at that — than Story. He's a director who has marched to his own drumbeat since the beginning of his career and found success entirely on his own terms.
SHAFT, his latest project, marks the first time he's actually inherited a series, rather than built it from the ground up. But early trailers indicate that Story is taking the iconic detective in a direction fans have never seen before, once again changing expectations while delivering a thrilling ride.
The First Cut
Story wanted to be a director even as a young man. In 2014, he explained his approach to become a director to the DGA: "If somebody asks you what you do, you say, 'I'm a director.' 'What have you directed?' 'Nothing. But I'm a director.'" Fake it till you make it is a well-known refrain in Hollywood, and Story made it.
BARBERSHOP, a beautifully funny slice-of-life story, was Story's breakthrough following early years in music videos and two independent movies. He used the location of the title as a place for sharing ideas and experiences in the black community and reintroduced audiences to a type of socially conscious comedy that had seemingly been going out of vogue. BARBERSHOP's massive popularity spawned two sequels and a spinoff, which were handed off to other filmmakers.
Although Story's next film, the Jimmy Fallon and Queen Latifah action-comedy vehicle (pun intended) TAXI, failed to make waves with audiences, the director rebounded with a massive world-building opportunity. FANTASTIC FOUR, for better or worse, preceded the Marvel Cinematic Universe and was the first movie to cast Chris Evans, who played the Human Torch, as a Marvel hero. Decidedly more family friendly than other superhero movies of the era, it won Story a different kind of loyal audience that returned two years later in 2007 for RISE OF THE SILVER SURFER.
Getting Personal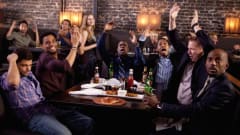 After two big effects movies, Story needed to go back to smaller stuff. "I wanted to get back to what I knew was in my heart," he told the DGA. "I think as a filmmaker, there's the bigness of Hollywood, but if you come from small, personal pieces, you want to get back to that at some point." The high school basketball story HURRICANE SEASON, with an excellent lead performance by Forest Whitaker, came out of this period. This is also the time when Story contributed to the first of three Kevin Hart stand-up comedy movies — and that led directly to his next big series.
Story cast Hart in the rom-com THINK LIKE A MAN, which turned into a monster hit. It was also an early effort for producer Will Packer, who brought Story the script for RIDE ALONG — and Story knew that Ice Cube and Kevin Hart would be an ideal pair for the mismatched buddy cop comedy. Both films led to sequels, which Story directed as well, keeping his cinematic family close.
Shaft Returns
But before delivering a third RIDE ALONG film — which is in the works — Story turned his attention to SHAFT. The (excuse us) storied character has periodically returned to theatres, like a super-cool comet, since his debut in 1971. This film introduces a new generation to the character's legacy, building directly on Richard Roundtree's 1970s version and Samuel L. Jackson's 2000 update.
The new SHAFT brings Jackson's character's son, John Shaft Jr. (Jessie Usher), into the fold. In doing so, Story transforms the series from a blaxploitation empowerment fantasy into a family affair, as the three men fight crimes and try to find common ground as do-gooders with wildly different tactics.
There are common elements in all of Story's work. He tells stories that are slightly edgy, but also insightful about human nature and always focused on a fun moviegoing experience. The filmmaker has a unique gift of being able to merge these ideas, with notes of cultural commentary, into one harmonious package. His movies often focus on characters of color, but appeal to everyone by exploring stories that are deeply and universally relatable. If the original SHAFT asked audiences the question, "Can you dig it?", Story answers this time — and every time — with a resounding, "Yes."
SHAFT comes to AMC theatres on June 14.