When we last saw Batman on screen in a DC Extended Universe movie, he was fighting alongside his Justice League compatriots, bringing Steppenwolf down in the blockbuster JUSTICE LEAGUE. But while fellow Leaguers Aquaman (Jason Momoa) and Wonder Woman (Gal Gadot) moved on to their own individual movies, the Caped Crusader's fate was up in the air.
Some recent developments, however, have put the Bat back on track, albeit with some major changes happening both behind the scenes and in front of the camera. Let's run through the latest developments on the next chapter of Batman on the big screen and when you can expect to see him at your local AMC.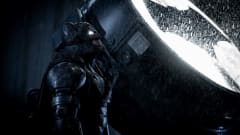 The Batman Release Date
Matt Reeves, who most recently helmed the last two PLANET OF THE APES movies for 20th Century Fox, has been attached to a new Batman movie for months now. But it was believed that Reeves had a story in mind that didn't connect with the current storyline running through the DCEU. Reeves wanted a younger Batman and potentially to kick off a trilogy with his new Caped Crusader.
Well, Warner Bros. agreed with this vision, and the studio has penciled in Matt Reeves's THE BATMAN for June 25, 2021. It will be the third DC movie released that year, as the studio also has singled out DC SUPER PETS for release in May and THE SUICIDE SQUAD for release in August of 2021.
But back to THE BATMAN. Reeves is keeping relatively close-lipped on the project, stating that he would like to tell a detective-noir story that shows off the more human side of Batman. In the comics, Batman's the world's greatest detective, but on screen, he's mainly been leading with his fists.
Reeves also noted that the movie would contain multiple members of Batman's famous rogues gallery, meaning fans might see new on-screen versions of villains like Penguin, Riddler, Joker, Catwoman and Mr. Freeze, to name just a few possibilities.
Ben Is Back?
But what about Ben Affleck? Shortly after Warner Bros. dated THE BATMAN for June 25, 2021, Ben Affleck tweeted a response that basically passed the baton to a new, as-yet-unnamed actor. Ben Affleck's time in the cape and cowl officially has come to an end.
https://twitter.com/BenAffleck/status/1090772636206952448
But why? Fans really seemed to like Affleck's interpretation of both billionaire Bruce Wayne and his costumed vigilante alter ego. The issue lies in Affleck's age. When Zack Snyder cast Affleck as Batman in BATMAN V SUPERMAN: DAWN OF JUSTICE, he was looking for an older, veteran Batman who had been around Gotham City for decades. Affleck fit the bill. But Reeves reportedly wants to go back to an earlier time in the Batman timeline and needs a younger actor who can commit to three movies, at the least.
So, who will Matt Reeves cast in his lead role? That remains a mystery, though several names are being tossed around the internet by hopeful fans. Now that Oscar Isaac's time in the STAR WARS universe is drawing to a close, some see him as the ideal Bruce Wayne. The same goes for Karl Urban, who has time now that STAR TREK 4 is back on the shelf.
One of the most unexpected casting suggestions has been Robert Pattinson of TWILIGHT fame, and truthfully, we can get behind that. He has been outstanding in movies like GOOD TIME and MAPS TO THE STARS, and he'd be an inspired, out-of-left-field choice.
We know that THE BATMAN is coming. And we know that Matt Reeves has a vision for a larger story, one that requires some exciting casting in the near future. Stay tuned to the AMC Scene, and we will bring you all of the latest updates from the DC cinematic universe.